General
Weather
Airports
Attractions
Activities
---
Introduction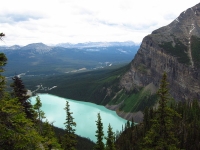 Lake Louise located in Alberta ©Egaowakaii
Tourism in Alberta is centred on its famous Rocky Mountain region, which flanks it on its western border with British Columbia and offers a host of alpine attractions. The northern area is a sparsely inhabited wilderness of forests, lakes and rivers; the provincial capital, Edmonton, is in the central area, while in the east, on the border with Saskatchewan, the atmosphere takes on a Wild West feel in the Badlands and prairies.
Even in the cities and towns, visitors to Alberta can be sure that nature is never far away. Albertans love the outdoors and urban environments are interspersed with plenty of lush river parks and greenbelts. In fact the capital, Edmonton, has more parkland per capita than any other North American city. An important aspect of Alberta's heritage is its aboriginal culture. Home to 43 First Nations, this heritage has been preserved in 14 reserves and educational attractions ranging from the world's largest teepee to native interpretive trails and exquisite handmade crafts.
The natural beauty of this Canadian province is world-renowned, so it is no surprise to discover that it is home to five of Canada's 14 World Heritage Sites: Head-Smashed-In Buffalo Jump, Waterton-Glacier International Peace Park, Banff-Jasper National Parks, Wood Buffalo National Park and Dinosaur Provincial Park. Wood Buffalo National Park is Canada's largest national park and the second largest in the world.
Climate Info
Alberta has a dry continental climate, with four distinct seasons including hot summers and very cold, snowy winters. Summer runs between June and August, when days are warm and evenings are cool. Winters, between December and February, are cold with heavy snowfalls, particularly in the Rockies. The province is large and extends over multiple terrains, making the climate highly variable from area to area.
Getting Around
Getting around in Calgary is easy as most of the city's attractions are concentrated within the city centre. The streets downtown are laid out in a numbered grid with avenues running east to west and streets running north to south, while in outlying areas neighbourhoods have more meandering streets which can be confusing to visitors.
Because of the grid system, walking around downtown Calgary is a simple way to get around. The Eau Claire market area and the Stephen Avenue Mall are pleasant pedestrian-only areas. Calgary's public transport system is efficient and reliable, with a light rail and bus system servicing the city centre. The light rail runs from 4am to midnight every day, and the buses operate from 5am to midnight, with some routes continuing until 1am. There is a fare-free zone in the middle of town, and in other areas a pass can be purchased at many convenience stores.
There are plenty of taxis available, either by hailing them in the street or calling the dispatch. Note that taxis cruise mainly the central areas of the city.
Driving in Calgary is relatively stress-free. Many streets are one-way, and streets marked 'transit only' are for public transport vehicles only. Parking downtown can be scarce and confusing, as the city uses an automated pay system that requires you to enter your zone and license plate number into a pay station. It is often easier to park in a private lot. There are numerous companies from which you can hire a car in Calgary.
Calgary International Airport (YYC)
| | |
| --- | --- |
| Location | The airport is 11 miles (17km) northeast of downtown Calgary. |
| Time Difference | GMT -7 (GMT -6 from the second Sunday in March to the first Sunday in November). |
| Contacts | Tel: +1 (403) 735 1200. |
| Getting to city | There are a number of bus services running between the airport, the city centre and other Alberta destinations. Calgary Transit provides a public bus service to and from the airport. There is also an Airport Shuttle Express, which services most hotels in the Calgary area, and several hotels offer a courtesy shuttle service. Airport taxis are available outside Arrivals. |
| Car Rental | Alamo, Budget, Avis, Hertz, National and Thrifty are all represented at the airport and can be found in the Rental Car Centre opposite the main terminal building. |
| Airpor Taxis | Airport taxis are available outside Arrivals. |
| Airport Facilities | There are shops and duty-free shopping, restaurants and bars, ATMs, foreign exchange and an information booth within the terminal. There is a business and internet centre, and a shop that rents mobile phones. Disabled passengers are well catered for and there are plenty of children's entertainment facilities. |
| Car Parking | All parking lots are within walking distance of the terminal. Short-term parking starts at C$8.50 for the first hour with a daily limit of C$54.95. Long-term parking is available for around C$27 per day, with discounts for Economy Lots. |
| Website | www.yyc.com |
Edmonton International Airport (YEG)
| | |
| --- | --- |
| Location | The airport is located 16 miles (25km) from Edmonton city centre. |
| Time Difference | GMT -7 (GMT-6 from the first Sunday in March to the first Sunday in November). |
| Getting to city | Edmonton Skyshuttle provides convenient connections to major hotels and other destinations across the city, as well as Edmonton Transit Service's Route 747 bus service, which connects passengers to the city's bus and LRT network. Numerous taxi and limousine service companies serve the airport. Other taxi companies may drop-off or pick-up passengers in the commercial taxi area if prior arrangements have been made. |
| Car Rental | Car rental companies represented at the airport include Alamo, Avis, Budget, Enterprise, Hertz and National. |
| Airpor Taxis | Numerous taxi and limousine service companies serve the airport. Other taxi companies may drop-off or pick-up passengers in the commercial taxi area if prior arrangements have been made. |
| Airport Facilities | Airport facilities include ATMs, currency exchange, a bank, shopping (including a duty-free shop), an information booth, child entertainment facilities, baggage storage, chapel, wifi, workstations, a bar, cafes and restaurants. |
| Car Parking | Parking is available at the airport. There are pick-up and drop-off zones which are free. There are also various parking options including valet parking, executive parking, easy parkade and value parking. |
| Website | www.flyeia.com |
Glenbow Museum




Located in the heart of Calgary, opposite the tower, the Glenbow Museum is Canada's largest museum, with more than 93,000 square feet (8,640 sq metres) of exhibition space, spread over three floors. It houses more than a million objects that fill up its 20 galleries and showcase the colo
▼ see more




Camera, Glenbow Museum ©Rick Goldman
---
Calgary Zoo




Canada's second largest zoo is home to more than 1,000 animals from all over the world, as well as a variety of fish and insects in natural habitat enclosures. It also features a prehistoric park with 19 life-size animatronic dinosaurs on display. The botanic gardens include a 20,000 squ
▼ see more




Tiger at Calgary Zoo ©Tony Hisgett
---
Fort Calgary




This historical site chronicles Calgary's history between 1875 and the 1940s and allows visitors to step back in time and explore the early days of the city through interactive exhibits, costumed interpreters, hands on activities, guided tours and an entertaining audio-visual presentatio
▼ see more




Fort Calgary ©davebloggs007
---
Columbia Icefields




This massive field of ancient ice, made up of eight major glaciers, is situated near the town of Jasper in the middle of Jasper National Park. The icefield covers 125 square miles (325 sq km) and in places is estimated to be 1,270ft (385m) deep. The icefield feeds four of North America's
▼ see more




Columbia Icefield ©Rufus Hawthorne
---
Jasper




Affectionately known as the 'little town in the big park', Jasper lies in the middle of Canada's largest mountain park, the Jasper National Park, and makes a delightful base from which to explore the lakes and mountains. The town of just over 4,000 people is 233 miles (373km) from Edmont
▼ see more




Pyramid Lake ©Norton Ip
---
Moraine Lake




Located within Banff National Park, close to the popular resort towns of Lake Louise and Banff, Moraine is an utterly spectacular glacially-fed lake. Due to 'rock flour' - tiny particles of suspended sediment - the lake is a vivid turquoise colour, and on a clear day, reflects the surrou
▼ see more




Moraine Lake ©Tobias Alt
---
Banff




The small resort town of Banff is a holiday destination situated inside the spectacular and unspoilt Banff National Park, Canada's first national park and most popular tourist attraction, about an hour and a half's drive west of Calgary. The surrounding national park offers 2,564 square
▼ see more




Banff ©Sesivany
---
Heritage Park Historical Village




Heritage Park is a 'living history village', comprised of more than 180 exhibitions that attempt to show what life was like in Alberta in the 19th and 20th centuries.

Set on 127 beautiful acres of parkland, and located just 15 minutes from Calgary's central business district,
▼ see more




Heritage Park Historical Village ©Phil Whitehouse
---
Canada Olympic Park




Canada Olympic Park was a major venue during the 1988 Winter Olympic Games, and now hosts skiing and snowboarding programmes every winter; as well as housing the Canadian Olympic Hall of Fame and Museum.

COP (as it's known to locals) remains a chief tourist attraction for cas
▼ see more




Canada Olympic Park ©Tyson2k
---
Calgary Tower




The city's most recognisable structure, Calgary Tower is a must-visit landmark which looms 626 feet (191m) above the city.

The glass-floored observation deck offers spectacular, 360 degree views of the city below, and there's a revolving restaurant on offer, as well. Tours of
▼ see more




Calgary Tower ©Calgary Reviews
---
Calaway Park




The kids won't let you get away with not visiting Calaway Park, western Canada's largest outdoor amusement park. Open seven days a week during the warmer months, this outdoor park does close during the frosty Alberta winters - check the calendar on the official website listed below for e
▼ see more




Calaway Park ©trec_lit
---
Head-Smashed-In Buffalo Jump




A 'buffalo jump' is a ledge of rock traditionally used to lure stampeding buffalo to their deaths. This one not only has an wonderfully descriptive name, but is a UNESCO World Heritage Site, proudly displaying exhibitions detailing the life and history of the Blackfoot people, the origin
▼ see more




Head-Smashed-In Buffalo Jump ©Kim Siever
---
Travel Guide powered by www.wordtravels.com, copyright © Globe Media Ltd. All rights reserved. By its very nature much of the information in this guide is subject to change at short notice and travellers are urged to verify information on which they're relying with the relevant authorities. Globe Media and UNIGLOBE Travel does not accept any responsibility for any loss or inconvenience to any person as a result of information contained above.