General
Weather
Airports
Attractions
Activities
---
Introduction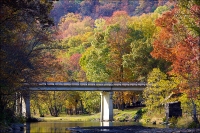 Devil's Den State Park ©Doug Wertman
With Arkansas' alluring forests, lakes and mountains, it's no wonder most of the state's visitors come in search of outdoor adventure. The state's rock climbing opportunities, particularly in the sandstone crags of the northwest, are first rate; its rivers and streams, bursting with trout, are perfect for fishing, canoeing and rafting; hunters enjoy abundant wildlife and comparatively liberal regulations; more than 50 parks scattered across the state offer excellent hiking, backpacking and mountain biking; and digging sites enable holiday 'geologists' to unearth their own quartz, judged to be among the world's finest, and occasionally even find a diamond. The Crater of Diamonds State Park is the only diamond mine in the world where visitors can pay an entry fee and keep whatever gems they find. The state's off-the-beaten-path reputation makes it quite an affordable holiday destination as well.
Once, however, Arkansas had a slightly different reputation among travellers. In the early 1900s, due to its thermal springs, it was an elite hideaway for those seeking health, rejuvenation and luxury. Hot Springs National Park, with its magnificent stone and marble bathhouses, now historic landmarks, was the most famous spa, and it remains the most visited spot in Arkansas, attracting both bathers and history buffs. Eureka Springs is another picturesque historic town that grew up around its hot springs, far north in the fabled Ozark Mountains.
The Ozarks are one of the unique cultural regions in America. This mountainous plateau covering northern Arkansas, as well as parts of bordering states, was settled mainly by Scottish-Irish immigrants. As in Appalachia, the area's beautiful but harsh terrain led to a hardscrabble existence. However, from this lifestyle blossomed an ingenuity that has led to generations of Ozark artisans excelling in quilting, knife and instrument making, wood carving and other crafts. 'Mountain music', in which masters of the fiddle, dulcimer, autoharp and banjo join together for jamborees, is another intrinsic part of Ozark heritage. The Ozark Folk Center is dedicated to maintaining a living history of the Ozark way of life.
The southern region of Arkansas opens up into flatter land, the heartland of Arkansas' agricultural background. Two of Arkansas' most famous sons, Johnny Cash and Bill Clinton, were born in this area. Clinton's birthplace is the town of Hope, but his true Arkansas legacy is to be found in the capital, Little Rock. The William J. Clinton Presidential Library and Museum houses history's largest collection of presidential papers and artefacts. It is located in Little Rock's vibrant River Market District, on the banks of the Arkansas River, a revitalized warehouse area that now hosts a thriving farmers' market and is home to countless funky galleries and boutiques, fine southern restaurants, trendy cafés and lively bars. Travellers in search of more history can visit the Little Rock Central High School, now a national historic site, where, in 1957, President Eisenhower dispatched federal paratroopers to force the local government to allow nine African-American students to attend the school.
Climate Info
The climate in Arkansas is characterised by four distinct, yet temperate, seasons. It is far enough south to have extremely hot, humid summers, during which thunderstorms occur quite frequently. Arkansas does border the so-called 'Tornado Alley', and severe tornadoes have struck in the past, most often in the spring months of May and June. Spring and autumn are the best time to visit Arkansas, being particularly mild and pleasant. Winters are chilly, but not unbearably so, and while snow is not uncommon, it is seldom excessive.
Getting Around
Renting a car is the best option for those planning to travel beyond the downtown area of Little Rock. Taxis are available in the city, but are not plentiful so it is best to call in advance as they can be difficult to hail on the street; the exception is the airport, where taxis are always available. The Little Rock River Rail Trolley system services most of the main tourist attractions and entertainment venues downtown and is a cheap and convenient transport option for travellers, with adult fares costing only $1. There is also a bus system which services most of the city, but it is less popular with visitors. Little Rock has a sizeable population of cyclists and renting a bike is a fun option.
Bill and Hillary Clinton National Airport Little Rock (LIT)
| | |
| --- | --- |
| Location | The airport is situated four miles (6km) from the city. |
| Time Difference | GMT -6 (GMT -5 from mid-March to the first Sunday in November). |
| Contacts | Tel: +1 501 372 3439. |
| Getting to city | Shuttle services are available near Exit D and taxis outside Exit H on the north side of the baggage claim area. Public transport is available through Rock Region Metro; the bus stop is adjacent to the shuttle pick-up area. |
| Car Rental | Car rental service is offered by Alamo, Avis, Budget, Enterprise, Hertz, National and Thrifty. |
| Airpor Taxis | Taxis are available at the airport. The taxi stand is located outside Exit H, on the north side of the baggage claim area. |
| Airport Facilities | Facilities at the airport include restaurants, a food court, gift shops, newsagents, a book shop, ATMs and a visitor information centre. |
| Car Parking | Short and long-term parking is available. Parking costs $1 per 20 minutes in all lots, with daily maximums ranging from $8 to $13. |
| Website | www.clintonairport.com |
Northwest Arkansas Regional Airport (XNA)
| | |
| --- | --- |
| Location | The airport is located 17 miles (28km) northwest of Fayetteville. |
| Time Difference | GMT -6 (GMT -5 from mid-March to the first Sunday in November). |
| Getting to city | There is no public transport from Fayetteville Airport; however, there are several shuttle services available by advance booking. Some hotels offer complimentary transfers for guests. |
| Car Rental | Car hire companies at the airport include Avis, Budget, Hertz, Enterprise, National, Dollar and Thrifty. |
| Airpor Taxis | Taxi companies servicing the airport include Green Cab Company, Dynasty Transportation and AAA Taxi and Car Service. A taxi fare into Fayetteville averages between $45 and $50. |
| Airport Facilities | Facilities at the airport include visitor information, a lost and found, conference rooms and business centres, medical emergency facilities, ATMs, a pet relief area, a yoga room, play centres, an arcade, FedEx and Mail Drop, a police department, and a selection of restaurants and shops. |
| Car Parking | The first 30 minutes are free in the short-term parking lot, and the first 15 minutes are free in all the others. The economy lot, furthest from the terminal, is the cheapest, costing only $6 for 24 hours. In the long-term lot, four to 24 hours cost $8. The short-term lot charges $2 for the first hour, $3 for one to two hours and $1 per hour thereafter, with a daily rate of $24. |
| Website | www.flyxna.com |
Little Rock Nine Memorial




After a ruling by the US Supreme Court that segregated schools were unconstitutional in 1954, a group of African-American students known as the 'Little Rock Nine' were enrolled in Little Rock Central High School in 1957, much to the dismay of their fellow all-white classmates. The move w
▼ see more




Little Rock Nine Monument ©Cliff
---
Clinton Presidential Center




History buffs visiting Little Rock should be sure to visit the William J. Clinton Presidential Center and Park, the presidential library of former US president Bill Clinton that features the Clinton Presidential Library, the offices of the Clinton Foundation, and the University of Arkans
▼ see more




William J. Clinton Presidential Library ©Thomas R Machnitzki
---
Arkansas Governors Mansion




The official residence of the Governor of Arkansas and his family, this mansion is located within the Governor's Mansion Historic District. Before its construction in 1950, there had never been an official residence of the state's chief executive. Eleven of Arkansas' 45 governors have li
▼ see more




Arkansas Governor's Mansion ©Cliff
---
Hot Springs




Located just 43 miles (68km) outside of Little Rock, Hot Springs is a popular weekend getaway and excursion for both locals and tourists in Arkansas. The small city takes its name from 47 natural hot springs, which supply heated water to a number of spas in town, most notably in the beau
▼ see more




Bathhouse Row ©Wolfgang Beckers
---
Travel Guide powered by www.wordtravels.com, copyright © Globe Media Ltd. All rights reserved. By its very nature much of the information in this guide is subject to change at short notice and travellers are urged to verify information on which they're relying with the relevant authorities. Globe Media and UNIGLOBE Travel does not accept any responsibility for any loss or inconvenience to any person as a result of information contained above.