General
Weather
Airports
Attractions
Activities
---
Introduction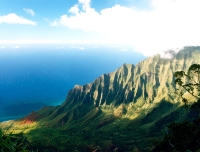 Na Pali Coast ©Jeff Kubina
Any 'Best Of' travel guide inevitably includes the Hawaiian Islands as the best place for sun, sand and natural attractions - the place to head for an idyllic beach holiday.
Hawaii has some of the best beaches in the United States, each unique in its dimensions, shapes and hues. These sandy stretches are fronted by crystal waters teeming with tropical fish darting through forests of coral. Some of the world's best surfing and watersport opportunities are offered here and for those intent on premium sightseeing it is hard to beat the thrill of watching lava flow from the world's longest erupting volcano.
Visitors who relish exploring different cultures and ancient civilisations will find the best of Polynesian relics in which to indulge their passions, as they soak up some of the (spiritual power) with which the islands were imbued by the legendary gods and goddesses.
The state of Hawaii includes approximately 130 islands in the Pacific Ocean, many of which are uninhabited. The islands lie about 1,600 miles (2,600km) off the coast of mainland USA. The largest island, Hawaii, is known unimaginatively as the Big Island, but the state capital, Honolulu, and most of the population is located on the smaller island of Oahu, which is also the main tourist destination. The other main islands are Maui, Molokai and Kauai. Between them the islands boast an amazingly diverse geography providing endless recreation opportunities, from snowboarding on mountain summits to hiking through rainforests. It's no wonder that Hawaii is one of the most popular travel destinations in the United States: the possibilities offered by a Hawaiian holiday are limited only by the boundaries of the imagination.
Climate Info
The climate of Hawaii is more subtropical than tropical, due to the fact that the sea surrounding the islands has a moderating effect. Weather conditions tend to be fairly consistent, with little temperature variation. There are two seasons, neither of which is particularly extreme. Summer (May to October) has pleasant temperatures and humidity is low, with the average highs of 82°F (28°C). Winter (November to April) has temperatures that rarely fall below 65°F (18°C). The climate of each Hawaiian island can differ according to whether they fall on the windward side or not, as those areas on the windward side experience more rain and cloud cover caused by prevailing north easterly trade winds. Hawaiian resorts tend to therefore cluster on the leeward sides so that tourists can enjoy the benefits of more sunshine.
Getting Around
Getting around Honolulu, and Oahu in general, means orienting yourself to local directions. Visitors may be told to go makai (toward the sea) or mauka (toward the mountain); the famous Diamond Head crater is also an important landmark and reference for the east, and the town of Ewa stands in for the west.
The main public transport system is simply called TheBus, and serves Honolulu and most of Oahu. The most popular route runs between Waikiki and Ala Moana Center every 10 minutes. Single tickets are $2.50, or 4-day visitor passes are available for $25.
The Waikiki Trolley is also a fun way to get around Honolulu, looping around 12 key locations every 40 minutes with commentary by the driver. Stops include Hilton Hawaiian Village, Iolani Palace, Wo Fat's in Chinatown, the State Capitol, King Kamehameha's Statue, the Mission House Museum, Aloha Tower, Honolulu Academy of Arts, Hawaii Maritime Museum, Ward Centre, Fisherman's Wharf, and Restaurant Row.
Taxis are also available, and are a good way to get around at night; they are locally regulated so fares are standard across all companies. Relying on taxis for all transport gets expensive quickly however.
Honolulu International Airport (HNL)
| | |
| --- | --- |
| Location | The airport is located on Oahu Island about six miles (10km) west of downtown Honolulu and nine miles (15km) west of Waikiki Beach. |
| Time Difference | Local time is GMT -10 |
| Contacts | Airport information desk: +1 808 836 6413. |
| Transfer terminals | The three terminals are connected by shuttle buses and outdoor walkways. |
| Getting to city | There are several city bus services that follow different routes and schedules connecting to central Waikiki. Many hotels offer pick-up services and the Airport Waikiki Express shuttle bus meets all flights and drops off at hotels along Waikiki Beach. The SpeediShuttle does trips to Honolulu Harbor from $15.48. |
| Car Rental | Car hire companies represented at the airport include Advantage, Avis, Budget, Enterprise, Hertz and National. Some other car rental companies are located off-site and provide buses to ferry passengers to their offices; it's worth checking the rental companies' location before booking. |
| Airpor Taxis | Taxis are available; the ride to Waikiki takes around 20 minutes and has a metered fare of about $40-45. Fares may be slightly more if it's rush hour or peak travel time. |
| Airport Facilities | The airport is well supplied with restaurants, bars and shops, including duty free. There are ATMs and bureaux de change throughout the airport terminals, a massage centre, a hairdresser and a nearby hotel, which offers shower facilities and rooms charged by the hour. The business centre in the main lobby offers fax, internet and photocopy services. Facilities for the disabled are good; those with special requirements should contact their airline in advance. |
| Car Parking | There is parking located near each terminal. The first half hour costs $1 and a full hour costs $3. The maximun daily charge is $18 per day. There is an economy lot, which charges $15 per day. Monthly parking is available for $300. |
| Website | www.hawaii.gov/hnl |
Kahului Airport (OGG)
| | |
| --- | --- |
| Location | The airport is located three miles (5km) northeast of Kahului Town in Maui. |
| Time Difference | Local time is GMT -10. |
| Contacts | Tel: +1 808 872 3830. |
| Getting to city | Maui County operates a public transit system from the airport which operates daily. The Maui Bus stops at marked locations fronting the terminal and the fare is $1; Route 40 (Upcountry Islander) operates every 90 minutes between 7.15am and 10.15pm, while Route 35 (Haiku Islander) operates every 90 minutes between 6.45am and 9.45pm. Note that only one bag is allowed per passenger. |
| Car Rental | Car rental agencies include Thrifty, Avis, Hertz, National, Enterprise, Dollar, Budget and Alamo. |
| Airpor Taxis | Airport taxis are located fronting the baggage claim area and are metered at a cost of $3 per mile. An average fare to Kahului Town is $13, a taxi to Wailuku is $20, and the fare to Wailea is about $57. |
| Airport Facilities | Kahului Airport features shops, restaurants, customer service, an information desk and ATMs. |
| Car Parking | Parking lots are located near the terminal. Parking is free for the first 15 minutes, $1 for the first 30 minutes, $2 for the second 30 minutes and $2 per hour thereafter up to a daily maximum of $15. |
| Website | www.hawaii.gov/ogg |
Oahu Beaches




The main attraction for visitors to Oahu are the range of 139 beaches which, from the pounding waves of the north shore to the gentle swells of Waikiki in the south, offer the chance to bathe and soak up the sun, or tackle a variety of active watersports in water temperatures that never
▼ see more




Lanikai Beach ©Hakilon
---
Hilo




Hula down to Hilo, which has been dubbed 'Hawaii's forgotten city' on the coast of the Big Island, for a dose of old-time Hawaii. The city may be the second largest in the State, but Hilo has a small-town feel. Overlooking beautiful Hilo Bay, and dominated by two volcanoes (the active Ma
▼ see more




Four-mile beach, Hilo ©AlaskaDave
---
Polynesian Cultural Centre




Hawaii's top tourist attraction, the Polynesian Cultural Centre, is situated on the Kamehameha Highway in Laie on the scenic north shore of Oahu island. This remarkable venue, visited by more than one million people a year, consists of seven Polynesian 'islands' in a beautifully landscap
▼ see more




Polynesian Cultural Center ©coconut wireless
---
Bishop Museum




The Bishop Museum in Honolulu is the largest museum in Hawaii and the premier natural and cultural history institution in the Pacific, recognised worldwide for its cultural collections, research projects and educational programmes. The museum was founded in 1889 by Charles Reed Bishop, i
▼ see more




Bernice Pauahi Bishop Museum ©cliff1066
---
Valley of the Temples




Opposite a bustling shopping centre on the Kahekili Highway in Kaneohe, below the Koolau mountains, nestles a little piece of Japan tucked away in Hawaii. The Valley of the Temples Memorial Park contains oriental gardens and koi ponds, a massive nine-foot Buddha statue, Japanese Tea Hous
▼ see more




Byodo-In Temple ©Cristo Vlahos
---
Iolani Palace




The only royal residence in the United States, the Iolani Palace, stands on the corner of King and Richard Streets in Honolulu, its opulent interior giving a glimpse into the lives of Hawaii's last reigning monarchs between 1882 and 1893.

It was originally home to King Kalaka
▼ see more




Iolani Palace ©WPPilot
---
USS Arizona Memorial Museum




The USS Arizona was one of several United States battle ships that were sunk by the Japanese Imperial Navy during its surprise historic attack on Pearl Harbour, Oahu, on December 7, 1941, causing the US to enter into World War II. The Arizona sank in about nine minutes, along with 1,177
▼ see more




USS Arizona Memorial Museum ©Public Domain
---
Honolulus Chinatown




Enter Honolulu's Chinatown neighbourhood through the Gateway Plaza on the corner of Bethel and Hotel streets in the city's downtown business district, and you step into an exciting and exotic world made up of a colourful and eclectic blend of Southeast Asian cultures.

Here Vi
▼ see more




Wo Fat Building ©Joel Bradshaw
---
Haleakala National Park




The Haleakala National Park extends from the summit of the volcano, down into the crater, then across the volcano's southeast slopes to Maui's east coast, beyond the town of Hana. The main reason for the park being visited by nearly one and a half million people a year, is the attraction
▼ see more




Haleakala National Park ©Tony Webster
---
Maui Ocean Centre




The Maui Ocean Centre is an unrivalled aquatic experience and the largest tropical reef aquarium in the Western Hemisphere. The Centre is located in oceanfront Ma'alaea Village off the Honoapiilani Highway, within minutes of all major resort areas; it consists of indoor and outdoor displ
▼ see more




Maui Ocean Center ©ryan harvey
---
Whalers Village Museum




The whaling museum in the heart of Maui's commercial centre, Lahaina, documents the sleepy port city's evolution into a whaling boomtown in the middle of the 19th century, combining exhibits and educational displays. The Whaler's Village Museum is home to an impressive collection of whal
▼ see more




Whalers Village Museum ©Mark Goebel
---
Baldwin Home Museum




One of Lahaina's best preserved 19th-century landmarks, the house in Front Street built by Rev. Dwight Baldwin in 1834, stands now as the oldest house in Maui. Baldwin was a missionary who started a farm on the island and was responsible for growing the first plantations of Hawaii's indi
▼ see more




Lahaina Front Street ©Randy Willis
---
Hana Highway




No visit to Maui is complete without hitting the highway - the Hana Highway, that is - that runs for about 50 miles (81km) between Kailua and Hana on the northeastern coast of the island. This hair-raising but incredibly scenic coastal drive was built in 1927 by gangs of convicts. It twi
▼ see more




Hana Highway ©alexa627
---
Hulihee Palace




The stately mansion of Hulihe'e is situated on Alii Drive in Kailua Kona on the west coast of Hawaii's Big Island. It was built in 1883 and served as the holiday home of Hawaiian royalty until 1925 when it was turned into a museum; it now houses a collection of ancient Hawaiian artefacts
▼ see more




Huliheʻe Palace ©Calbear22
---
Hawaii Volcanoes National Park




In the Hawaii Volcanoes National Park surrounding the earth's most massive volcano, Mauna Loa, visitors can actually watch lava flow into the sea from Kilauea, the still active on-site volcano. Park rangers direct visitors to the daily eruption activity on a dramatic burnt landscape, whi
▼ see more




Pu'u 'O'o ©G.E. Ulrich
---
Pacific Tsunami Museum




Hilo has been destroyed several times by tsunami (tidal waves). The first-hand oral testimony of tsunami survivors is now preserved along with some other fascinating information in the Pacific Tsunami Museum, located on Kamehameha Avenue in the town. The museum features a series of perma
▼ see more




Pacific Tsunami Museum ©Mark Goebel
---
Puuhonua O Honaunau National Historical Park




This important Hawaiian cultural and historical site on the black-lava Kona Coast of the Big Island contains some forbidding-looking giant idols, although it was in fact built as a refuge for ancient Hawaiians who had violated kapu (social taboo) or as a sanctuary for defeated warriors.
▼ see more




Pu'uhonua O Honaunau National Historical Park ©Gillfoto
---
Surfing in Oahu




Synonymous with surf, sand and sun, Hawaii is a place where South African and Australian surf legends Shaun Tomson, Mark Richards and Wayne 'Rabbit' Bartholomew pioneered the surfing scene, turning it into the professional sport it is today. Hawaii's surfing beaches are internationally f
▼ see more




Oahu North Shore Surfer ©Stan Shebs
---
Kona Coffee Museum and Farm




For a taste of the coffee industry that flourished in the early 20th century on the Big Island visitors can tour the Uchida Coffee Farm, south of Kealakekua town on the Kona Coast. Tour guides in period costumes show off the original farmhouse, bathhouse, coffee mill and drying platforms
▼ see more




Kona Coffee Living History Farm ©Kona Historical Society
---
Kalalau Trail




Since 90 per cent of Kauai is inaccessible by road, hiking is a great way to experience the island's celebrated natural bounty. There are a number of good hiking trails around the island, but by far the most famous, and the most popular, is the strenuous 11 mile (about 18km) Kalalau trai
▼ see more




Hanakapi'ai Falls ©paul (dex) bica
---
Waikiki Aquarium




The award-winning Waikiki Aquarium in Honolulu is home to more than 3,500 plants and animals. One of the oldest aquariums in the United States, the facility is a great place to say hello to the colourful inhabitants of the Pacific Ocean, including zebra shark, giant octopus, monk seal, s
▼ see more




Monk Seal ©flickker photos
---
Diamond Head Crater




One of the most famous landmarks in Hawaii, Diamond Head dominates the landscape over Honolulu. Officially termed an extinct volcanic tuff cone, the mammoth cone is a US Monument, and a popular attraction on Oahu.

Located near resorts and beaches in Honolulu, Diamond Head has
▼ see more




Diamond Head Crater ©Steve Jurvetson
---
Napali Coast State Wilderness Park




A rugged coast of extreme beauty, the Na Pali Coastline stretches 15 miles (24km) from Ke'e Beach all the way to Polihale State Park on the island of Kauai. The rugged cliffs create a paradise of peaks and valleys, bubbling streams and dramatic waterfalls.

The area is inacces
▼ see more




Kalalau Valley ©Michael from Minnesota
---
Travel Guide powered by www.wordtravels.com, copyright © Globe Media Ltd. All rights reserved. By its very nature much of the information in this guide is subject to change at short notice and travellers are urged to verify information on which they're relying with the relevant authorities. Globe Media and UNIGLOBE Travel does not accept any responsibility for any loss or inconvenience to any person as a result of information contained above.