Introduction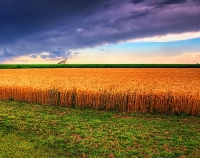 Kansas Summer Wheat ©James Watkins
Kansas occupies a prominent place in American history, though its status in pop culture is somewhat less distinguished. The state was a violent battleground between pro- and anti-slavery settlers during the 1850s, a period dubbed 'Bleeding Kansas'. The state also played a pivotal role in America's westward expansion, its string of frontier forts supporting the clashes of the Indian Wars of the 1860s. But as every American school kid knows, Kansas is perhaps most famous for the landmark ruling of Brown v. Board of Education of Topeka, which ended segregation in public schools. Visitors can learn more about Kansas' history at the state's numerous historic sites, many of which have been designated national historic landmarks.
Although the historical significance of the state may sound dull to some, Kansas actually has a delightfully colourful past, peopled by cowboys, pioneers, gunfighters and lawmen. It is home to Dodge City, the once-infamous 'Wickedest City of the West', which has been the setting of countless movies and television shows, including Gunsmoke. Even today, Kansas has a reputation for quirkiness; it is an odd place whose miles of seemingly flat, empty terrain are punctuated not only by serious historical monuments but also by attractions like the World's Largest Ball of Twine and the World's Largest Spinach Salad. While Kansas may not be the ideal holiday spot for some, it does have a lot to offer, and not only to history buffs.
Kansas' network of state parks and wildlife refuges comprises rolling hills and prairies, sand dunes, wildflowers, rivers and lakes, offering hunters, hikers, boaters, horseback riders and fishermen a wealth of options. Kansas isn't all rolling prairies though, and it has several major cities, all located in the eastern half of the state. The largest city is Wichita, which has a population of under 400,000 and enough museums, shops, restaurants and attractions to entertain all comers. Topeka, though smaller, is the capital of Kansas and home to the Kansas State Historical Society Museum. The true largest city in Kansas is the buzzing Kansas City, though the state can claim only the part of it west of the Mississippi River.
Travellers should note that Kansas is regularly hit by tornadoes between April and June. Those travelling during this period should pay close attention to weather alerts.
Languages Spoken
Spanish and English are the most common languages.
Travel Guide powered by www.wordtravels.com, copyright © Globe Media Ltd. All rights reserved. By its very nature much of the information in this guide is subject to change at short notice and travellers are urged to verify information on which they're relying with the relevant authorities. Globe Media and UNIGLOBE Travel does not accept any responsibility for any loss or inconvenience to any person as a result of information contained above.