General
Weather
Airports
Attractions
Activities
---
Introduction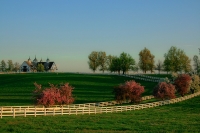 Horse farm ©Navin75
The state of Kentucky is nicknamed the 'Bluegrass State' for the variety of grass that covers much of its surface, producing a small blue flower in springtime. The grass provides good grazing for Kentucky's most treasured possessions: the thoroughbred horses that are bred on the rolling hills of this western frontier area.
Horses, fried chicken, bourbon and river steamers are what most people associate with Kentucky, but this largely rural part of the United States has plenty of other attractions too, many of them historical and a great deal of them natural. For instance, Thomas Edison lived in Louisville before he invented the light bulb, and the state contains the world's longest cave, Mammoth Cave, which is 350 miles (563km) long.
Kentucky is one of only four American states that is designated a commonwealth: back in 1792 when Kentucky was incorporated as the 15th State of the Union the people chose to be a commonwealth, governed on the common consent of the people. The state is governed from the capital, Frankfort, on the Kentucky River in central Kentucky, but the largest city in the state, and its commercial capital, is Louisville, a lively town on the Ohio River.
Kentucky, bordered by no less than seven other states, is easily accessible via several Interstate highways and the Louisville International Airport, making it a popular tourist destination with its 50 state parks and hundreds of recreational, natural, historic and cultural attractions. Tourism is the State's third largest revenue-producing industry and visitors are enthusiastically welcomed.
Climate Info
Kentucky generally experiences a mild climate, but summers can be hot and there is snowfall in winter. The wettest seasons are spring and summer.
Getting Around
Louisville is regarded as one of the most accessible cities in the United States, having excellent road and rail links in addition to its international airport. Once in the city, it is best to make use of the frequent and efficient bus and trolley services. Taxis are also easy to find, and some hotels run their own complimentary shuttle services between the airport, the downtown area and other landmarks. Louisville has a strong cycling tradition, and there are several on-road bike lanes downtown. Many visitors prefer to hire a car, which makes getting around the city and the surrounding areas easy.
Louisville International Airport (SDF)
| | |
| --- | --- |
| Location | The airport is located six miles (10km) from central Louisville. |
| Time Difference | GMT -5 (GMT -4 from mid-March to the first Sunday in November). |
| Contacts | Tel: +1 502 367 4636. |
| Getting to city | TARC buses travel to Louisville city centre at regular intervals. Details on routes and schedules are available at the information desk. Many area hotels provide courtesy shuttles for guests. |
| Car Rental | Car hire companies represented at the airport include Alamo, Avis, Budget, Dollar, Hertz, Enterprise, National and Thrifty. Car hire desks are in the baggage claim area. |
| Airpor Taxis | Taxis are available at the traffic island on the left of the taxi stand. |
| Airport Facilities | There are a number of ATMs, shops, cafes and restaurants in the terminal. There is also a bank, bureau de change and shoeshine service. Disabled facilities are good; those with special needs are advised to inform their airline in advance. |
| Car Parking | Short-term parking is on Level 1 of the garage, and costs $1 for the first hour, and $1 per half hour thereafter up to a daily maximum of $19. Medium-term parking is on Levels 1-3 of the garage, and costs $2 for the first hour, and $2 per hour thereafter up to a daily maximum of $13 and a weekly rate of $78. The surface lot has long-term parking, charged at $9 per day and $54 per week. |
| Website | www.flylouisville.com |
Lexington Blue Grass Airport (LEX)
| | |
| --- | --- |
| Location | The airport is located four miles (7km) outside Lexington, Kentucky. |
| Time Difference | GMT -5 (GMT -4 from mid-March to the first Sunday in November). |
| Contacts | (859) 425 3100 |
| Getting to city | There is an express bus service (Route 21) into downtown Lexington offered by LexTran. The bus operates on weekdays from 6am to 6pm and on weekends from 8am to 4pm from the curb side pick-up area. |
| Car Rental | The rental car offices are located in the baggage claim area on the first level of the terminal building. Rental companies include Enterprise, Hertz and Avis. |
| Airpor Taxis | There are taxis available outside the terminal building, by the exit of the baggage claim area. |
| Airport Facilities | Airport facilities include ATMs, an information centre, shops and restaurants. |
| Car Parking | Parking is available in short-term, long-term and economy lots. |
| Website | www.bluegrassairport.com |
Muhammad Ali Center




Fans of legendary boxer Muhammad Ali can see and experience all aspects of the life of the man dubbed 'The Greatest' at this huge multi-media, interactive exhibition centre, which features 10 theatres and more than 50 interactive stations. Ali's story, including his boxing career, global
▼ see more




Muhammed Ali Center ©Paul Joseph
---
Kentucky Derby Museum




Even those who are not horse-racing fans can experience the thrill of the sport at the museum and through tours offered at Churchill Downs, one of the world's oldest (established in 1874) and most famous tracks, which hosts the annual renowned Kentucky Derby.

The Museum conta
▼ see more




Barbaro Memorial ©Cameron Aubernon
---
Belle of Louisville




The Belle of Louisville is America's oldest still-serving sternwheeler riverboat, plying the Ohio River from Louisville's waterfront to give visitors memorable sunset cruises, sightseeing excursions and Saturday night party cruises.

The historic boat powered by two steam engi
▼ see more




Belle of Louisville ©Bo
---
Thomas Edisons House




Thomas Edison, inventor of the incandescent electric light bulb, lived in the house on East Washington Street in 1866 when he was only 19 years old and had yet to receive acclaim for his many inventions. When Edison lived in Louisville he worked for the Western Union as a telegraph opera
▼ see more




Thomas Edison's House ©Bedford
---
Cathedral of the Assumption




The Cathedral of the Assumption is the fourth oldest public building in Louisville as well as the third oldest Catholic Cathedral in the United States in continuous use. Designed in the Neo-Gothic style by William Keeley and Isaiah Rogers, the Cathedral was completed in 1852. The steeple
▼ see more




Cathedral of Assumption ©Bedford
---
Kentucky Science Center




The Kentucky Science Center in historic West Main Street, founded in 1871 as a natural history collection, has experienced more than a century of growth to become Kentucky's largest hands-on science centre, visited by more than 550,000 people each year. A highlight of the centre is a 12,
▼ see more




Science Center ©LuAnn Snawder
---
Louisville Glassworks




America's first complete centre dedicated to the art of glass, from architectural glassworks to the finest glass jewellery and ornaments, is located in Louisville on the corner of 9th and Market Streets in the historic Snead Manufacturing Building. Visitors can watch glassblowers, flamew
▼ see more




Louisville Glassworks Centre ©Brendan Adkins
---
Kentucky Horse Park




The only theme park in the world dedicated to man's relationship with the horse, the Kentucky Horse Park in Lexington covers 1,200 acres in Kentucky's famous Bluegrass country. A visit to the Park begins with a film show in the visitor's centre, followed by exploring the vast and compreh
▼ see more




Kentucky Horse Park ©Wes Blevins
---
Woodford Reserve Distillery




Besides horses, Kentucky is famous for its Bourbon whiskey. Numerous distilleries are open to the public, but one of the oldest still operating is the Woodford Reserve Distillery nestled between lush horse farms in Woodford County on McCracken Pike. Bourbon was first distilled here in 18
▼ see more




Woodford Reserve Distillery ©Ken Thomas
---
Fort Knox




This US Army fort, located an hour south of Louisville, is world-famous as the home of America's largest stockpile of gold bullion; however, the repository is closed to visitors. A popular attraction though, is the General George Patton Museum of Leadership, which has exhibitions of US A
▼ see more




Fort Knox ©48states
---
Frankfort




The capital city of Kentucky, history-rich Frankfort is situated about 50 miles (80km) east of Louisville, about 50 minutes drive from Louisville International Airport. The state capital boasts a vast array of architectural styles, famous landmarks, museums and enjoyable shopping precinc
▼ see more




State Capitol, Frankfort ©RXUYDC
---
Mammoth Cave




The Mammoth Cave National Park near Edmonson in south-central Kentucky boasts the longest cave in the world, with 350 miles (563km) of caverns and passages having so far been explored and, according to experts, 'no end in sight'. The cave has been promoted as a tourist attraction since 1
▼ see more




Mammoth Cave ©Daniel Schwen
---
Churchill Downs




The home of the most famous horse race in America, Churchill downs is full of tradition and amazing stories. It opened in 1875, and has hosted the Kentucky Derby ever since. The track also hosts the Breeders Cup. Races are run from May to July, and October to November, and visitors to Ch
▼ see more




Churchill Downs ©Richard Hurt
---
Travel Guide powered by www.wordtravels.com, copyright © Globe Media Ltd. All rights reserved. By its very nature much of the information in this guide is subject to change at short notice and travellers are urged to verify information on which they're relying with the relevant authorities. Globe Media and UNIGLOBE Travel does not accept any responsibility for any loss or inconvenience to any person as a result of information contained above.