General
Weather
Airports
Attractions
Activities
---
Introduction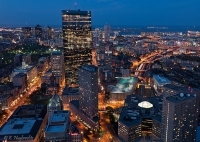 Boston ©Emmanuel Huybrechts
The arrival of the earliest pioneers near Salem in 1630 was the shaping of Massachusetts as a state. Puritans arriving from an England threatened with civil war came to set up a new colony, intended to be an example to the world of a perfect human society, with rigid Protestant discipline and a devout way of life. This was the beginning of New England and today it is made up of six states including Massachusetts.
Boston has been the proud hub of the state since colonial times and is full of fascinating history that can be traced by walking the Freedom Trail and the Black Heritage Trail. Boston also boasts a wealth of culture thanks to the prestigious presence of Harvard University and the Massachusetts Institute of Technology in Cambridge. To the east lie the beaches of the Cape Cod Peninsula as well as the islands of Martha's Vineyard and Nantucket that together form the region's most popular holiday destination, equipped with historic towns and plenty of walking and cycling opportunities.
Inland Massachusetts is much quieter, with settlements clustered around the fertile river valleys and in the Berkshire Hills to the west. Development of the Berkshires began with the construction of the railway from New York and Boston and it gradually became a favourite summer retreat for wealthy city folk as well as attracting artists and writers. The region is now most famous for its vibrant summer music, dance and theatre festivals, particularly as the Boston Symphony Orchestra has its home at the huge Tanglewood Estate in Lenox.
Climate Info
Massachusetts has a humid continental climate, with cold, snowy winters and warm summers, with cooler temperatures in the Berkshires year round, and warmer temperatures along the coast. In general, temperatures in the state reach average highs of 82°F (27°C) in summer, between June and August, and average lows of 16°F (-8°C) in winter, between December and February. Winter snowfall in and around Boston is considerable, with higher levels in the Berkshire Hills.
Getting Around
Boston's transport network consists of the country's oldest subway system, buses, trolley buses, ferries around the harbour and the commuter rail. For getting around the Boston-Cambridge area the subway is the best as it is easy to use, fast and safe. It serves most of the city and on the whole visitors will have little use for the bus network, which is cheaper but more confusing for newcomers. Buses operate from 5am to 11.30pm and the subway until around 1am, and a 'Night Owl' bus service has been introduced to provide transport along main bus routes and parallel to subway lines on Friday and Saturday nights until 2.30am. Taxis are plentiful but expensive, although water taxis are popular as a novel way to explore the city. Licensed cabs are best found at cabstands (usually near hotels) or can be reserved by phone; they are metered and provide receipts. Boston is a motorist's nightmare and there is no need to rent a car while in the city, unless planning excursions.
Boston Logan International Airport (BOS)
| | |
| --- | --- |
| Location | The airport is situated four miles (6km) northeast of Boston. |
| Time Difference | GMT -5 (GMT -4 from mid-March to first Sunday in November). |
| Contacts | Tel: +1 800 235 6426. |
| Transfer terminals | A free shuttle bus services the four terminals. |
| Getting to city | The Massachusetts Bay Transport Authority provides regular bus service for free, on the Silver Line, and a faster subway connection, on the Blue Line, to and from the city centre, costing about $2.65. Massport's free water transportation bus connects from all airport terminals to the Logan dock where private water taxis and public commuter boats are available to multiple destinations in the Boston Harbour. |
| Car Rental | Car rental companies include Avis, Budget, Hertz and National. |
| Airpor Taxis | Taxis are available outside all terminals and a taxi from Logan International Airport to downtown Boston takes between 20 minutes and an hour, depending on traffic. Some companies offer shared vans that provide door-to-door services. |
| Airport Facilities | There are ATMs and bureaux de change in all terminals. Other facilities include restaurants and bars, shops, duty-free shopping, children's entertainment, tourist information and hotel reservations. |
| Car Parking | Parking at Boston Logan starts at $3 for the first half hour, $6 for an hour, $16 for two hours, and up to $23 per day. Weekly rates are charged at $138. The three parking lots closer to the terminal are more expensive if you stay more than a couple of hours, and all lots are serviced by a free shuttle to the terminals. |
| Website | www.massport.com |
Freedom Trail




The two and a half mile (4km) Freedom Trail follows a line of red bricks, or a painted red line on the pavement, linking 16 historic sights associated with the early struggle for freedom from British control and the events leading up to the revolution. Markers identify the stops and prov
▼ see more




Freedom Trail ©dancingnomad3
---
Black Heritage Trail




Today Beacon Hill brings to mind images of affluence and luxurious living, yet until the end of the 19th century it contained a community of free blacks and escaped slaves from the southern states who owned businesses, built houses and schools, and worshipped together in the churches. Al
▼ see more




Black Heritage Trail ©Edgar
---
Boston Tea Party Ship and Museum




Moored to the bridge is the Beaver II, known as the Boston Tea Party Ship and Museum, and one of the three ships stormed by patriots in 1773 as an act of rebellion against British rule and in particular against the new tax laws imposed on tea. A group of revolutionaries disguised as Moha
▼ see more




Boston Tea Party Ship and Museum ©Martyn Smith
---
MIT Museum




The MIT Museum is located in Cambridge, near the campus of the Massachusetts Institute of Technology, one of the most prestigious universities in the US. The relatively small museum houses technology-themed collections of holograms, artificial intelligence, robotics, and maritime history
▼ see more




MIT Museum ©angela n.
---
Cambridge




Just across the Charles River from Boston, Cambridge is actually a city in its own right although the two cities are so closely associated that many people believe them to be one and the same. Cambridge is home to two of the most prestigious centres for education in the country, Harvard
▼ see more




Statue of John Harvard, Harvard Yard ©Jessica Williams
---
Harvard University




Established in 1636, Harvard University is the oldest in the country and one of the most prestigious institutions of higher learning in the USA and indeed the world. It is famous for its brilliant faculties, which have produced economists, biologists, prize-winning poets, and famous grad
▼ see more




Harvard University ©Roger W
---
Boston Public Garden




The first botanical garden in the United States, the Boston Public Garden provides a tranquil escape from the fast pace of the city centre. Maintained by the Boston Parks and Recreation Department and the Friends of the Public Garden, the botanical garden is a must-see on any exploration
▼ see more




Boston Public Garden ©Robert Linsdell
---
Marthas Vineyard




Believed to have been named by mariner Bartholomew Gosnold for his daughter, Martha, with the 'vineyard' referring to the abundance of wild grapes growing on the island, Martha's Vineyard is a favourite summer destination for New England's wealthy elite. Tourism is the main economy, boos
▼ see more




Martha's Vineyard ©David Berkowitz
---
Nantucket




Thirty miles (48km) off the coast of Cape Cod, the island of Nantucket is smaller and more remote than Martha's Vineyard, and is an escape from city stress and the chaos of everyday life. Miles of unspoilt beaches, rolling wind-swept moors, solitary windmills and lighthouses, church stee
▼ see more




Nantucket ©Massachusetts Office of Travel & Tourism
---
Faneuil Hall Marketplace




A great Boston day trip and shopping destination, Faneuil Hill Marketplace offers superb shopping at some familiar designer stores, quality arts and crafts, as well as great restaurants and sidewalk cafés. Four places in one, Faneuil Hall Marketplace encompasses Faneuil Hall, Quincy Mar
▼ see more




Faneuil Hall Marketplace ©6SN7
---
Boston Museum of Fine Arts




An artwork in itself, the Museum of Fine Arts in Boston houses some of the most famous European paintings in the US. Boston's oldest, largest and best-known art institution, the MFA's collections is one of the world's most comprehensive, with something like 22,000 artworks including mast
▼ see more




Boston Museum of Fine Arts ©Bill Damon
---
Codzilla




Codzilla takes passengers on a high-speed cruise around Boston's harbour. People on board will scream in pure delight as the boat curves, spins and rips through the harbour for 40 minutes, with music such as Bobby Darin and ACDC blaring. You'll be travelling at a heart-pumping 40 miles (
▼ see more




Codzilla ©Tony Hisgett
---
New England Aquarium




Home to Simons IMAX Theatre and the New England Aquarium Whale Watch, which runs from April through October, the New England Aquarium features a plethora of some of the world's most amazing marine species, such as the impressive giant pacific octopus, sand tiger shark, green sea turtles
▼ see more




Jellyfish at New England Aquarium ©Smart Destinations
---
Cape Cod Lighthouses




Cape Cod is home to a number of picturesque lighthouses that draw sightseers year-round. At one point there were more than 20 on the peninsula; however, many of them have now been decommissioned and knocked down. Those remaining have varying degrees of difficulty in access: some are easi
▼ see more




Nobska Lighthouse ©Francisco Diez
---
Fenway Park




The Boston Red Sox are a much-beloved part of life in New England. The 'curse of the Babe' and their infamous near 100-year losing streak only made their supporters more fanatical. Fenway Park is the oldest Major League Baseball stadium still in use, and has quirky features like The Tria
▼ see more




Fenway Park ©Rick Berry
---
Sam Adams Brewery




Visitors to Boston can take an informative tour of the Sam Adams Brewery, and get a look at the brewing process for the popular beer. Named for the revolutionary war hero, the beer has been brewed in Boston since the 1980s. The tour showcases the entire process, and allows visitors to ta
▼ see more




Sam Adams Brewery ©ep_jhu
---
Travel Guide powered by www.wordtravels.com, copyright © Globe Media Ltd. All rights reserved. By its very nature much of the information in this guide is subject to change at short notice and travellers are urged to verify information on which they're relying with the relevant authorities. Globe Media and UNIGLOBE Travel does not accept any responsibility for any loss or inconvenience to any person as a result of information contained above.