General
Weather
Airports
Attractions
Activities
---
Introduction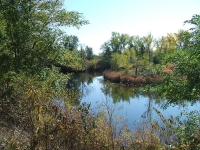 Elm Creek, Nebraska ©John Lillis
Nebraska is situated in the Great Plains of the American Midwest, where agriculture is a way of life. The level land of the east is ideal for farming, while the western area of high dunes and small, shallow lakes is dotted with ranches. This divide is evident to some degree in personality as well as in physical terrain. The hub of Omaha ties one half of Nebraska to the Midwest, while many in the western half staunchly identify with the more rugged Old West heritage. Most travellers to Nebraska are probably not after big-city action. Those who are have only one and a half options: Omaha, the state's largest city; and the nearby capital of Lincoln. Famous as the home of financial genius Warren Buffett as well as really great steaks, Omaha may be a far cultural cry from New York City, but it has a world-renowned zoo and a buzzing arts and entertainment district. Lincoln is a small and fairly sleepy state capital but it is transformed from small-city peace to football-fan pandemonium with every University of Nebraska Huskers' game.
The true gems of Nebraska lie in its natural beauty to the west of the commercial centres and underwhelming flatlands. Early each spring, the Platte River in south-central Nebraska is a stopover in the massive migration of the sandhill cranes, the largest gathering of this kind in the world. Watching the ritual dancing of the cranes as the sun sets over the water is a breath-taking sight. Next up in the journey west are the Nebraska Sandhills, a remote, rippling area of grass-covered dunes and isolated ranches.
But it is in the far panhandle region of Nebraska that the landscape truly becomes remarkable, jutting up into rocky columns, sheer buttes and pine-covered canyons. This is wilder land, where skirmishes with Native Americans continued long after the east was settled, where Crazy Horse, leader of the Lakota, was killed at a lonely frontier outpost. The geography culminates in Scotts Bluff and Chimney Rock, unusual limestone formations that tower above the surrounding land. Both were major landmarks for pioneers on the Oregon Trail, the wagon roadbed of which is still visible. This is not the only lasting impression man has left on this landscape, however. When the thrill of the natural environment wears off, having come this far west, travellers might as well visit one extremely odd man-made addition: Carhenge, a life-size replica of Stonehenge constructed entirely of old cars.
Climate Info
Nebraska's climate is mostly continental, with distinct seasons and temperatures that vary greatly from season to season. The western third of the state has a semi-arid climate. Generally, summers are hot and humid, averaging 76°F (24°C) in July, but hot winds often push summer temperatures above 90°F (32°C). Winters are cold and snowy with temperatures of around 23°F (-5°C) in January. The state is prone to severe weather patterns such as blizzards, droughts and windstorms. Thunderstorms are common in spring and summer.
Getting Around
Omaha is a Midwestern city and is therefore no stranger to urban sprawl, being designed primarily to be navigated by car; thus, a rental car is the most convenient option for getting around. Fairly comprehensive fixed-route bus service is provided by Metro Area Transit; however, travellers should note that many bus routes only operate on weekdays. Adult bus fare starts at $1.25. In the central downtown area, walking is a pleasant option when shopping and dining in the Old Market area; attractions like the riverfront and the Convention Center and Arena can be reached on foot. However, taxi availability can be erratic, and for sightseeing outside this downtown area, a car is best.
Eppley Airfield - Millard Airport (OMA)
| | |
| --- | --- |
| Location | The airport is located four miles (6km) northeast of downtown Omaha. |
| Time Difference | GMT -6 (GMT -5 from mid-March to the first Sunday in November). |
| Contacts | Tel: +1 402 661 8017. |
| Transfer terminals | The terminals are all connected. |
| Getting to city | Taxis, shuttles and rental cars are available at the airport. Bus route 16 (East Omaha/North 16th) services the airport on weekdays between about 6am and 6.25pm; adult bus fare starts at $1.25. |
| Car Rental | Alamo, Avis, Budget, Dollar, Enterprise, Hertz, National and Thrifty offer car rental services at the airport. |
| Airpor Taxis | Taxis are available at the airport. |
| Airport Facilities | Facilities at the airport include food courts and snack bars, lounges, retail outlets, ATMs, a bank, conference rooms, and a shoe shine service. |
| Car Parking | The covered parking facility has both quick-park and long-term spaces. Surface parking within walking distance of the terminal is available, as is long-term economy parking with shuttle service. Charges vary by lot, but most charge $1 per 15 minutes for the first hour, with daily rates from $7 in the North Long Term Economy parking to $26 in the Quick-Park Garage. |
| Website | www.flyoma.com |
Omaha Zoo




In carrying out its mission of conservation, research, education and recreation, the Omaha Zoo has created Lied Jungle, America's largest indoor rainforest. Visitors can also explore the Scott Aquarium, Desert Dome, Cat Complex and Hubbard Gorilla Valley and Orangutan Forest, or catch a
▼ see more




Desert Dome at Omaha Zoo ©Dual Freq
---
Strategic Air and Space Museum




The Strategic Air and Space Museum in Omaha, regarded as the nation's foremost facility of its kind, showcases World War II and Cold War era aircraft and artefacts to illustrate the historical role of strategic air command in securing peace. The museum's exhibits, multimedia displays and
▼ see more




Strategic Air and Space Museum ©unbekannt
---
Bemis Center for Contemporary Arts




The Bemis Center for Contemporary Arts, just south of the Old Market district, was founded on the principle that exceptional talent deserves to be supported. Artists from around the world apply to participate in the centre's residency program, in which they are given studios and accommod
▼ see more




Bemis Center for Contemporary Arts ©Charlie Vinz
---
Omaha Childrens Museum




This fun-filled and award-winning interactive museum is designed as a learning and exploration space for young people. The various exhibits and activities are exciting and engaging, with the Imagination Playground and Sandy's Splish-Splash Garden proving especially popular. The Charlie C
▼ see more




Omaha Childrens Museum ©Ckahler
---
Travel Guide powered by www.wordtravels.com, copyright © Globe Media Ltd. All rights reserved. By its very nature much of the information in this guide is subject to change at short notice and travellers are urged to verify information on which they're relying with the relevant authorities. Globe Media and UNIGLOBE Travel does not accept any responsibility for any loss or inconvenience to any person as a result of information contained above.