General
Weather
Airports
Attractions
Activities
---
Introduction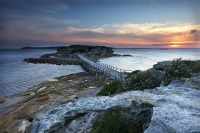 Bare Island, New South Wales ©Gemma Stiles
New South Wales, which contains Australia's oldest and most vibrant major city, Sydney, is the country's premier tourist state. It has the highest population, attracts the most visitors and has a range of experiences to offer the tourist that is unrivalled by most countries, let alone states, in the world. Breath-taking beaches, World Heritage National Parks, a taste of the real Australian Outback, snow-capped mountains, lush farming country, Aboriginal culture, and dazzling city lights are all on offer in New South Wales.
The state was named by Captain James Cook when he first stepped ashore in Australia at what is now Sydney Harbour and claimed the country for the British in 1770. The epicentre of New South Wales is the huge, sunny, sexy and sophisticated city of Sydney, characterised by its white-sailed Opera House and Harbour Bridge. Beyond the slick city life though, New South Wales also offers the chance to escape to the Snowy or Blue Mountains, drive through the rolling wine farm country of the Hunter Valley, enjoy getaways to the historic villages of the southern highlands, or indulge in whale-watching, surfing and swimming at free-spirited coastal villages and towns.
Climate Info
The climate in New South Wales is mostly temperate, semi-arid or arid, depending on the area, but generally summers are warm and winters fairly mild. The coast experiences heat and humidity during the summer months (December to February). The hottest area is the northwest part of the state, while the coldest region is the Snowy Mountains, where snow and frost persist for long periods during the winter months (June to August).
Sydney enjoys a temperate climate, with summer temperatures averaging between 63°F (17°C) and 78°F (25°C), while in winter temperatures average between 46°F (8°C) and 64°F (17°C). Some rain is likely in every month in Sydney, but spring is the driest season on average. The most popular time to visit Sydney, and New South Wales in general, is in the peak summer months between December and February, but travellers will find that anytime between September and May is pleasant weather-wise.
Getting Around
Sydney has a good network of buses, trains and ferries that make getting around the city and the surrounds easy. The bus network is the most extensive and cheapest mode of public transport, but can be slow due to traffic jams. There are also several hop-on hop-off Explorer buses for tourists that take in the major sights and surrounding beaches. The underground city centre train loop is the fastest way to get around, but many of the tourist areas, including Darling Harbour, Bondi Beach and Manly, can only be reached by further ferry or bus connections. The most pleasurable way to get around is by ferry - the main terminal is at Circular Quay. There is also a 10-minute monorail loop from the city centre to Darling Harbour and back, and a Metro Light Rail 'tram' system between Central Station and Wentworth Park in Pyrmont. In addition, metered taxis are plentiful and fairly economical. Hiring a car for short visits is not recommended due to heavy congestion (in peak hours) and limited parking in the city centre.
Kingsford Smith (Sydney) Airport (SYD)
| | |
| --- | --- |
| Location | The airport is situated about four miles (7km) south of Sydney. |
| Time Difference | GMT +11 (GMT +10 from the first Sunday in April to the first Sunday in October). |
| Contacts | Tel: +61 (0)2 9667 9111. |
| Transfer terminals | The Airport Rail Link connects the international (T1) and domestic terminals (T2 and T3), and the T-Bus provides a frequent service between T1 and T2. The Domestic terminals are walking distance apart. |
| Getting to city | The Airport Rail Link is the fastest and most convenient way to reach the city centre and the suburbs. Trains run every 10 minutes and the journey to the centre takes 13 minutes, from where connections can be made for all suburban services. There are two railway stations at the airport: one is located directly below Terminal 1, and the other between Terminal 2 and Terminal 3. Public bus 400 runs between the airport and Bondi Junction. Shuttle bus companies provide direct transport to and from the airport and must be pre-booked; hotel buses are also available. |
| Car Rental | All the main car hire companies are represented at the airport. |
| Airpor Taxis | There are supervised taxi ranks outside the terminal; regular taxis and maxi taxis (for groups) are available from here. |
| Airport Facilities | There are a wide variety of shops, bars and restaurants throughout the terminals, as well as shower facilities, internet kiosks, designated smoking areas, cell phone rental and duty-free shopping. Foreign exchange and ATMs are available throughout the airport. Medical facilities and baggage storage are also available in T1. Business services in Terminals 1 and 2 offer meeting rooms and internet. |
| Car Parking | Both the domestic and international terminals have easily accessible parking areas. Discounts are available for booking online in advance. |
| Website | www.sydneyairport.com.au |
Byron Bay




Nestled on the north coast of New South Wales and serving as the main town on Cape Byron, the holiday hub of Byron Bay occupies Australia's most easterly point. It is a haven of unspoilt beaches, laid-back pursuits, some quirky locals and a spiritual atmosphere which is making it burgeon
▼ see more




Byron Bay ©Judith Duk
---
Snowy Mountains




Australia's favourite winter playground is among the peaks of the Snowy Mountains, about 315 miles (500km) south of Sydney, where there are more than 145 miles (230km) of ski-trails, graded from beginner to championship level. Ski season lasts from June to October. The ski resorts are kn
▼ see more




Mount Kosciusko ©Tamas
---
Harbour Bridge




One of Sydney's most famous landmarks, the Harbour Bridge (known locally as the 'Coat Hanger') was completed in 1932 after claiming 16 lives during its construction. The bridge spans the 1,600-foot (500m) gap from the north to the south shore, which was previously only accessible by ferr
▼ see more




Sydney Harbour aerial ©Rodney Haywood
---
The Rocks




The best place to start exploring Australia's oldest city is at The Rocks, a restored 19th-century village at the southern end of the Sydney Harbour Bridge, which was the site of Australia's first European settlement in 1788, and is therefore considered to be the birthplace of the nation
▼ see more




Cadman's Cottage, The Rocks ©Michael Coghlan
---
Sydney Opera House




It may not be an ancient monument, but the architecturally distinctive Sydney Opera House epitomises the city as much as the Great Pyramid in Cairo or the Acropolis in Athens. Situated on Sydney's harbour at Bennelong Point, this intriguing, white-sailed landmark is no white elephant. It
▼ see more




Sydney Opera House ©Paxtons Camera Video Digital
---
Royal Botanic Gardens




Sydney's 'green lung' is a 30-hectare botanical garden, established in 1816 and containing more than 7,500 species of plant. Australia's very first farm was on the site where the garden now flourishes, southeast of the Sydney Opera House. Paths criss-cross the gardens, leading strollers
▼ see more




Royal Botanic Gardens, Sydney ©Pascal Vuylsteker
---
Darling Harbour




The waterside tourist precinct of Darling Harbour, close to the central business district, is crossed by a monorail and offers plenty of entertaining diversions, museums, carnival rides, restaurants and shops. For example, there is the Imax Theatre, with Australia's largest cinema screen
▼ see more




Darling Harbour, Sydney ©Arran Bee
---
Sydney Beaches




One thing that is not in short supply in Sydney is beautiful Pacific Ocean beaches. Anywhere in the city, except perhaps in the far west suburbs, you will never be more than half an hour away from one. Starting from popular Palm Beach to the north, you can take your pick along the coast:
▼ see more




Manly Beach, Sydney ©Henry Burrows
---
Hunter Region




The Hunter Valley region is a 60-mile (100km) drive north of Sydney. It is a region already known to the world for its high quality wine, but is also fast becoming famous as an eco-tourism destination. Besides its vineyards and eateries, there are myriad places of interest, like Lake Mac
▼ see more




Hunter Valley Vineyards ©F Delventhal
---
Blue Mountains




The entrance to the richly forested hills of the Blue Mountains is at Glenbrook/Lapstone, only about 50 minutes' drive from Sydney. Many coach companies offer day trips, usually from Circular Quay in Sydney. Alternatively, City Rail offers an efficient service to the Blue Mountains, or y
▼ see more




Three Sisters, Blue Mountains ©Anne Dirkse
---
New England




Also known as 'Big Sky Country', the New England region of New South Wales is a place of spacious beauty where it is possible to enjoy the great outdoors in the cool summers as well as cosy hospitality in the crisp winters. The centre of New England is Australia's country-music capital,
▼ see more




Armidale, New England ©denisbin
---
Broken Hill




The historic town of Broken Hill lies in western New South Wales, in the area known as the 'Living Outback'. Here red dust roads lead off to national parks, opal fields, remote settlements and the Darling River. In Broken Hill art and mining live side by side as uncomfortable companions.
▼ see more




Broken Hill Trades Hall ©Ian Sutton
---
Sydney Tower




Sydney Tower, or the AMP Centrepoint Tower, is the tallest free-standing structure in the city, and one of the tallest in the country. Situated above the Centrepoint office building and shopping centre, the tower is one of the most popular tourist attractions in Sydney for its 360-degree
▼ see more




View from Sydney Tower ©Jennifer Morrow
---
Kings Cross




Once home to music halls and grand theatres, Kings Cross was transformed after World War II with the arrival of hundreds of troops visiting from the nearby naval base, and today still carries the reputation as the city's red-light district. Although the nightclubs, strip clubs, bars, res
▼ see more




Coca Cola Billboard ©Bandwagonman
---
Featherdale Wildlife Park




Families who visit the Featherdale Wildlife Park will be able to interact with and observe unique Australian animals like koalas, wallabies and emus up close and personal. Kids can have their photograph taken with one of these fuzzy animals and petting the koalas is also allowed, a rare
▼ see more




Featherdale Wildlife Park ©Kimberly Vardeman
---
Travel Guide powered by www.wordtravels.com, copyright © Globe Media Ltd. All rights reserved. By its very nature much of the information in this guide is subject to change at short notice and travellers are urged to verify information on which they're relying with the relevant authorities. Globe Media and UNIGLOBE Travel does not accept any responsibility for any loss or inconvenience to any person as a result of information contained above.