General
Weather
Airports
Attractions
Activities
---
Introduction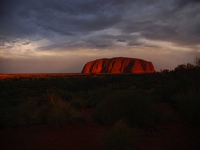 Sunset at Uluru ©Ed McCulloch
A slice through the centre of Australia, the Northern Territory contains the 'Red Centre' of the country with its rugged bush, ancient Aboriginal culture and amazing flora and fauna. This abundant wide open space is the 'Outback' of Australia. The Northern Territory is twice the size of California, but is inhabited by fewer than 250,000 people. It draws tourists by droves, however, because it forms the backdrop for adventure on a grand scale - hot-air ballooning, bushwalking, four-wheel drive safaris, camel rides - all enabled by good roads, quality accommodation and vast swathes of unspoiled wilderness.
From Darwin, the capital of Northern Australia in the far north, down to the mysterious Uluru (Ayers Rock) and the pioneering town of Alice Springs in the south, the Northern Territory is a land of contrasts. Here you will meet some of Australia's most colourful characters and experience deserts, islands and beaches, wetlands teeming with birds and crocodiles, shining rivers and ancient Aboriginal sites.
Travellers should be aware that especially during the summer months (usually between October and May) the shallow coastal waters of northern Australia become infested with marine stingers, commonly known as box jellyfish, whose sting is highly dangerous and can be deadly. Many beaches offer protected swimming with stinger nets in place, or enclosed tidal pools, and surf lifesavers may warn people off infested beaches. Swimmers may also wear a lycra 'stinger suit' as protection.
Climate Info
The Northern Territory covers two distinct climate zones. The north, including Darwin, is tropical with high humidity and a wet and dry season. Rainfall during the rainy season (November to April) can be very heavy. The central region is the desert centre of the country, which includes Alice Springs and Uluru (Ayers Rock), and is semi-arid, hot and dry. What little rain does fall, usually arrives during the hottest months between October and March.
The best time to visit the tropical north is during the dry season (May to October) as travel is very difficult during the heavy rains, and for the arid central region the most popular time to visit is in the cooler months between April and September.
Getting Around
The Darwin bus network covers most of the attractions in the city and many of the routes run seven days a week, although there are reduced operating hours on Sundays and public holidays. Fares are on a zone system. Darwin also has a number of bicycle trails and from the city there are easy rides to picturesque destinations such as Fannie Bay or the Botanical Gardens. Taxis are available and are metered. However, central Darwin is small enough to get around on foot.
Darwin International Airport (DRW)
| | |
| --- | --- |
| Location | The airport is situated eight miles (13km) northeast of Darwins city centre. |
| Time Difference | GMT +9.5. |
| Contacts | Tel: +61 (0)8 8920 1811. |
| Getting to city | There is an airport shuttle bus which meets all flights, and taxis are available. Public transport to and from the airport is limited, but a public bus operates to bus stops near the airport. |
| Car Rental | Avis, Budget, Hertz, Europcar and Thrifty are represented at the airport. |
| Airpor Taxis | Taxis are available from the taxi rank directly in front of the terminal. Taxis are metered and an approximate fare for a trip to the CBD is A$25 to A$30. |
| Airport Facilities | The airport terminal has ATMs and foreign exchange, several food and drink options, duty-free shopping, internet kiosks, wifi, shower facilities, and a variety of general shops. Facilities for the disabled are good. The airport is a smoke-free zone, but smoking areas are provided. |
| Car Parking | Short-term parking is available adjacent to the airport. Parking is free for the first 15 minutes, A$6 for the first hour, and an additional sum of about A$2 per hour thereafter, up to a daily maximum of A$29. Long-term parking is available at A$29 for one day, A$45 for two days, and about A$20 extra per day thereafter. |
| Website | www.darwinairport.com.au |
Kakadu National Park




This stunning park, covering almost 12,500 square miles (32,375 sq km) was added to UNESCO's list of World Heritage areas in 1984 and is regarded as one of the natural marvels of Australia. The land itself is believed to be more than two billion years old, and is a jigsaw of wetlands, go
▼ see more




Kakadu National Park, Northern Territory ©Ron Knight
---
Tennant Creek




Now a popular holiday resort, the old mining town of Tennant Creek, about 300 miles (500km) north of Alice Springs, was allegedly born when a beer wagon en route to an Overland Telegraph Station broke down in 1934 and the driver, Joe Kilgariff, decided to set up a store and pub at the br
▼ see more




Devil's Marbles, near Tennant Creek ©David Taus
---
Uluru - Kata Tjuta National Park




Formerly known as Ayres Rock, Uluru rises from the surrounding plains, protected within the Uluru - Kata Tjuta National Park, and belongs to the Anangu Aboriginal people, for whom it holds a special spiritual significance. In an isolated spot 280 miles (450km) from Alice Springs, the pow
▼ see more




Uluru, formerly called Ayres Rock ©ptwo
---
Crocodylus Park and Zoo




Housing over three decades of research on Australian crocodiles and a comprehensive crocodile museum, not to mention more than a thousand resident crocodiles, the Crocodylus Park and Zoo is designed to educate people about this lesser known predator. While the focus at the park is on cro
▼ see more




Saltwater Crocodile ©Tourism NT
---
Deckchair Cinema




Operated by the Darwin Film Society and completely independent, the Deckchair Cinema is unique in more than one way. Screening mainly films that would otherwise be unavailable to local audiences, the Deckchair Cinema is set outdoors on the edge of Darwin Harbour and is the perfect locati
▼ see more




Deckchairs ©Ellen Munro
---
Outback Ballooning




Surely the most iconic image of Australia is the blood-red dust of its sere and sparse Outback - and what better way to experience it than from a hot air balloon, in the dawn hours, with the sky full of a million colours? Alice Springs' Outback Ballooning company has been offering this o
▼ see more




Deflating an Outback Balloon ©Arturo Pardavila III
---
4x4 Safaris

One of the most memorable ways to experience the remote Northern Territory is to take to the road in a four-wheel-drive vehicle. Roads in the vast state include sealed, unsealed and rough 4x4 adventure routes, and the Northern Territory Tourism Commission has some exciting recommended itineraries for those wishing to explore. The main tourist attractions, like Alice Springs, Uluru, Tennant Creek and the national parks, are accessible by good sealed roads, such as 'Explorer's Way', which follows the path of John McDouall Stuart, the famous explorer who was first to traverse the continent in 1862. A shorter journey, called 'Nature's Way', winds from Darwin through a wetland wilderness steeped in Aboriginal culture and pioneering history.




While exploring this route, a must is the unsealed 'Jim Jim' four-wheel-drive track, which is 27 miles (43km) south of Jabiru in Kakadu National Park and is 37 miles (60km) long. This track is only open during the dry season, from May to October, and travellers will require a high suspension four-wheel-drive vehicle. It's advisable if hiring a vehicle to check with the company if the vehicle is allowed on the track. The 'Twin Falls' track lies a further six miles (10km) from Jim Jim Falls and features a few river crossings which the vehicle may require a snorkel to cross. Another favourite is the 'Red Centre Way' which takes travellers west from Alice Springs along the Namatjira Drive to view the West MacDonnell Ranges before meeting the Mereenie Loop at Glen Helen Gorge. From here the Kings Canyon and Uluru-Kata Tjuta National Park can be reached.






4x4 Outback Safari ©Ron Bennetts
Bushwalking

No visit to the Northern Territory is complete without undertaking a bushwalk through the spectacular scenery of the Outback. Hikers can choose to walk for days, or hours, along challenging rugged tracks or well-worn easy paths. The Northern Territory Tourist Commission, and the area's national parks, offer a variety of itineraries that can be followed. The Larapinta Trail, for example, is a 139-mile (223km) hike through the West MacDonnell National Park near Alice Springs, which can be walked in 12 stages over one or two days. The Jatbula Trail through Nitmiluk National Park takes four days to walk, offering close-ups of wildlife, cultural sites and deep sandstone gorges. A fascinating four-hour trek follows the six-mile (10km) circuit around the base of the mysterious Uluru rock. Those wanting to keep cool can walk the 24-mile (39km) Tabletop Track linking the waterfalls that cascade from a sandstone plateau in the Litchfield National Park.




The Northern Territory is undoubtedly one of the best parts of Australia for bushwalking, with numerous trails offering visitors the chance to authentically experience the Outback.






Hiking near Kata Tjuta ©nosha
Fishing

The Northern Territory is a sport fisherman's paradise, offering a vast range of fishing experiences on the inland billabongs, tidal rivers, mangrove-lined estuaries and in the clean and clear coastal waters. Particularly exciting are encounters with the barramundi, a predatory fighting fish found in the rivers and billabongs, renowned for its strong runs and high jumps. Among the prey in the ocean and Darwin harbour are black jewfish and snapper. There are plenty of fishing lodges and boat charters on offer, as well as guided fishing safaris.




There are good fishing opportunities in the Northern Territory year-round, but the year is divided into four distinct fishing seasons: the wet season, between January and mid-March, can be great for fishing, but the monsoonal storms are best avoided; the run-off season, between March and April, is the best time for barramundi fishing; the dry season, between May and September, is the peak bluewater fishing (game fishing) season; and the build-up season, between October and December, is also good for barramundi fishing.






Fishing off Darwin's boat ramp ©Ken Hodge
Travel Guide powered by www.wordtravels.com, copyright © Globe Media Ltd. All rights reserved. By its very nature much of the information in this guide is subject to change at short notice and travellers are urged to verify information on which they're relying with the relevant authorities. Globe Media and UNIGLOBE Travel does not accept any responsibility for any loss or inconvenience to any person as a result of information contained above.