General
Weather
Airports
Attractions
Activities
---
Introduction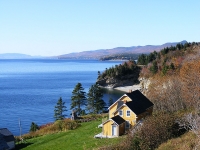 Forillon National Park ©abdallahh
The huge province of Quebec occupies the eastern part of Canada, with coasts on the North Atlantic, Hudson and James Bays, and the Lawrence Seaway (the major shipping channel of the east coast which cuts through the south of the province). The major cities of Quebec and Montreal are both situated in the more populated south, on the banks of the St Lawrence River.
The province has a wide variety of landscapes, climatic regions and vegetation, and therefore numerous different tourist attractions, scenic routes and holiday getaways to offer travellers. In the most northerly reaches the wilderness prevails, with thick forests and clear lakes dominating the landscape. This gives way to the snowy mountains of the Laurentians, popular resort country, while down south is the urban sprawl of Canada's French-speaking cities and the rolling pastures of the farmlands. Quebec has 22 national parks and a variety of stunningly beautiful natural landmarks, including Montmorency Falls outside of Quebec City and the Gaspé Peninsula on the St Lawrence River.
Quebec has a uniquely French flavour, remaining the only North American region to preserve its Francophone identity. In Quebec French is the official language and is spoken by more than 80 percent of the population. For decades the province has been dogged by political battles regarding secession, but currently moves to turn Quebec into a sovereign state have been put on the back-burner in favour of concentrating on economic development.
Climate Info
Covering such a huge area, the climate of Quebec has wide temperature variations. In the south, where most of the population lives, the weather is continental, with four seasons varying from hot summers (June to August) to cold, snowy winters and lots of rain. The central region has longer colder winters and shorter cooler summers, while the far north experiences a severe Arctic climate with a freezing winter and continuous permafrost. Winter can vary from five months in the south to eight months in the north, averaging between 14ºF (-10ºC) and -13ºF (-25ºC).
Getting Around
Montreal's sensible layout combined with an extensive and super-efficient public transport system (Metro, bus and commuter rail services) make getting around the city easy. In fair weather hundreds of kilometres of bike paths that span the island offer a healthier, pleasant option. Public transport is run by the Montreal Transport Society, or STM. The pristine metro has dozens of stations along four different lines with numerous stops in the subterranean mall. The metro stops are all integrated with a comprehensive network of city bus routes. Most metro services and buses run between 5.30am and 1am, with a limited night bus service filling in. The inner city services in turn connect to a commuter rail network that serves the suburbs. Fares are standard on both the bus and metro and transfers are free; a tourist pass is available for bus and metro. Metered taxis can be hailed in the streets downtown or ordered by telephone. There are numerous car rental firms in the city, but roads are often heavily congested and traffic jams are common.
Montreal-Pierre Elliott Trudeau International Airport (YUL)
| | |
| --- | --- |
| Location | The airport is located 12 miles (20km) west of Montreal. |
| Time Difference | GMT -5 (GMT -4 from the second Sunday in March to the first Sunday in November). |
| Contacts | Tel: +1 (514) 394 7377. |
| Getting to city | There is an airport bus service into the centre of Montreal and to the major downtown hotels. |
| Car Rental | Alamo, Avis, Budget, Hertz, National and Thrifty are represented on site. |
| Airpor Taxis | Metered taxis are readily available and can be found waiting outside the baggage reclaim area on the ground level. There is a minimum charge for a trip from the airport of C$17. The fare to downtown Montreal is fixed at C$40. |
| Airport Facilities | The Departures Level offers ATMs and bureaux de change, as well as duty-free and other shops. A variety of restaurants, bars and cafes are available on both levels and wifi access is available from anywhere in the terminal. Business facilities are available in the VIP lounge. Disabled travellers are well catered for; passengers with special needs should contact their airline in advance. |
| Car Parking | Short-Term parking is charged at C$6 for the first 20 minutes and C$37 per day; and indoor parking is available in HotelParc, charging C$8 for 20 minutes and C$36 per day. Long-term parking is cheapest in Econoparc at C$15-C$25 per day and C$85-C$120 per week, and the lot is connected to the terminal by a free shuttle service. Valet parking is also available; the reception area is next to the terminal. |
| Website | www.admtl.com |
Quebec City Jean Lesage International Airport (YQB)
| | |
| --- | --- |
| Location | The airport is located seven miles (11km) southwest of Quebec City. |
| Time Difference | GMT -5 (GMT -4 from the second Sunday in March to the first Sunday in November). |
| Getting to city | The Réseau du Transport de la Capitale (RTC) offers bus service along Route 78 from the airport to Les Saules bus terminal, operating Monday to Friday. Tickets are C$3.50 and exact change is required; alternatively, one can purchase a day pass for C$8.25. |
| Car Rental | Car rental companies are located on the main floor of the administrative building, and include Avis, Budget, Enterprise, Hertz, and National. |
| Airpor Taxis | Taxis are available at the information desk inside the terminal, or by prior booking. There is a flat rate of C$34.25 to downtown Quebec City; all other destinations are charged by the meter. |
| Airport Facilities | Airport facilities include souvenir and duty-free shops, restaurants and bars, coat check and storage lockers, a VIP lounge, information booth, children's play area, nursing room, currency exchange and ATMs. |
| Car Parking | Parking is charged at C$2.50 for 15 minutes, C$5 for 30 minutes, C$10 for an hour, up to a daily maximum of C$23, and a weekly rate of C$138. Cash and credit cards are accepted. |
| Website | www.aeroportdequebec.com |
Olympic Park




Montreal's futuristic Olympic Park was built for the 1976 Summer Olympic Games and still serves as a showpiece today. Designed by French architect, Roger Tallibert, it is impressive in both size and shape, able to hold up to 80,000 spectators who now gather here for concerts and baseball
▼ see more




Olympic Park ©Tony Hisgett
---
St Joseph's Oratory




St Joseph's Oratory is a landmark in Montreal, its imposing dome on the northwest flank of Mont Royal visible for miles. This oratory is a famous pilgrimage site, despite only being completed in 1967, attracting over two million visitors and pilgrims each year. It was founded by Brother
▼ see more




St Joseph's Oratory ©Taxiarchos228
---
Montreal Museum of Fine Arts




During the past 140 years the Montreal Museum of Fine Arts has assembled one of North America's finest encyclopaedic collections, totalling more than 30,000 objects. The collections include Canadian art, contemporary art, Inuit and Amerindian Art, European Masters, prints and drawings an
▼ see more




Montreal Museum of Fine Arts ©Shinya Suzuki
---
Parliament Buildings




Just outside the old city walls stands the imposing 19th-century Parliament Building, inspired by the Louvre in Paris and designed by the architect, Eugene Etienne Taché. Although it is the working home of the 125-strong National Assembly, the buildings are open to visitors for free gui
▼ see more




Parliament Buildings ©Christophe.Finot
---
Place Royale




The site of the historical Place-Royale complex was used in ancient times by the First Nations for trading, until the leader of the first Quebec French settlement, Samuel de Champlain, constructed a formal fortified fur trading post in 1608. The trading post flourished and grew into a th
▼ see more




Place Royale ©Tony Webster
---
Funicular




A panoramic bird's eye view of historic Québec City can be had from the cabin of the funicular that travels at an angle of 45º from Louis Jolliet House in the heart of the old city to Dufferin Terrace. The funicular has been an attraction in the city since the original steam driven ver
▼ see more




Funicular ©Tony Webster
---
Fortifications




Guided walking tours of the three miles (5km) of city wall that surrounds the old city of Québec trace the evolution of the city's defence system across three centuries. The walls were built between 1608 and 1871 as part of the defensive system of the old city, which was the region's ma
▼ see more




Fortification wall ©David Ohmer
---
Old Port of Montreal




Montreal's Old Port (Vieux Port de Montreal) is actually fairly new, having had a major face-lift to make it the most popular site for visitors to the city, drawing five million of them each year to throng the bustling wharves. In the 19th century the port of Québec on the St Lawrence w
▼ see more




Vieux Port ©mricon
---
Battlefields Park (Plains of Abraham)




Once the setting for bloody battles between the British and French, the Plains of Abraham today serve as Quebec City's primary 'green lung', a playground and peaceful arboreal retreat, and venue for a variety of festivals, fairs and events. The park is to Québec what Central Park is to
▼ see more




Battlefields Park ©David Ohmer
---
Montmorency Falls Park




Just to the east of Québec City lies the spectacular Montmorency Falls, plunging 272 feet (83m), one and a half times higher than Niagara Falls. Besides a beautiful setting, the park also boasts historic buildings and a variety of fun activities. A cable car runs up to the historic Mano
▼ see more




Montmorency Falls ©Dhinakaran Gajavarathan
---
LÎle dOrléans




The little island in the St Lawrence River, just 15 minutes from downtown Québec City, is an historical treasure trove containing 600 heritage buildings. Algonquin natives called the island 'windigo', meaning 'bewitched corner', before French colonists arrived in 1535 and named it for t
▼ see more




Ile d'Orleans ©Alberto Otero Garcia
---
Montreal Botanical Garden




In close proximity to the Olympic Park, the Montreal Botanical Garden is one of the largest of its kind, home to more than 22,000 plant species and roughly 30 exquisitely mapped out gardens, making it well worth a visit any time of year. Begun in 1931, in the midst of a financial crisis
▼ see more




Montreal Botanical Garden ©Patrick
---
Lower Town (Basse-Ville)




Quebec City's Lower Town (Basse-Ville) is the charming 'old quarter' of the city, full of narrow, winding streets, historical stone buildings, and an overwhelming array of trendy cafés, bars, and boutique stores. The oldest urban district in Canada, Lower Town has a distinctly European
▼ see more




Lower Town ©Kenn Chaplin
---
Travel Guide powered by www.wordtravels.com, copyright © Globe Media Ltd. All rights reserved. By its very nature much of the information in this guide is subject to change at short notice and travellers are urged to verify information on which they're relying with the relevant authorities. Globe Media and UNIGLOBE Travel does not accept any responsibility for any loss or inconvenience to any person as a result of information contained above.