General
Weather
Airports
Attractions
Activities
---
Introduction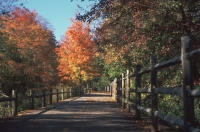 The Blackstone River Bikeway in Rhode Island. ©Srs5694
Once reserved as the resort for the rich, Rhode Island, smallest of the US states, is today a favourite east coast getaway, particularly for Bostonians and New Yorkers, being only 60 miles (97km) and 180 miles (290km) respectively from those major cities. The extravagant 19th-century mansions of America's wealthy families that grace Newport, Rhode Island's southern city on the Atlantic Ocean, are now relics of a golden age that serve as tourist attractions to be marvelled at by visitors. It is easy to understand why Rhode Island became a popular Mecca for the idle rich in days gone by when one considers the state has miles of convoluted shoreline jutting into the Atlantic Ocean and Narragansett Bay, allowing for more than 100 beaches. This little State offers more than just water, however… more than 60 percent of its total area is covered in woodland, carefully preserved in state parks and management areas.
The state capital is the city of Providence, lying at the northern point of narrow Narragansett Bay about 30 miles (48km) from the open ocean. Both Providence and the southerly city of Newport have a fascinating colonial history well worth investigating via the local attractions, while the little resort island of Block, about an hour by ferry from the southern town of Point Judith, is an unspoilt and well-preserved paradise. Rhode Island is not strictly an island as such, being rather a portion of coastline that has been jaggedly cleaved in two, bisected by Narragansett Bay, leaving an irregular coastline. The name is a legacy of the early Puritan settlers who thought their new homeland resembled the island of Rhodes in the Aegean. During the colonial period Newport prospered as an important port with ships trading in slaves, molasses and rum filling the harbour. After the Civil War the trading post began to turn into a resort as new-made millionaires discovered the beautiful beaches and gentle climate around the city and began to build their summer palaces.
Climate Info
The Rhode Island climate tends to be unpredictable and changeable, though it is predominately humid, with short summers and cold winters with snow. On average, monthly temperatures range from about 82°F (28°C) to 20°F (-7°C). In comparison to the inland regions, the coastal areas of Rhode Island, including Narragansett Bay, are usually cooler in summer and warmer in winter. July and August tend to be the warmest times of year and temperatures reach 80-85°F (26-29°C), though inland is usually hotter. January is normally the coldest month of the usually chilly winters, with temperatures on average dropping to about 30°F (-1°C). Storms and hurricanes do occur in Rhode Island, causing considerable damage.
Getting Around
The RIPTA bus service can get you almost anywhere in Providence. It is also the most inexpensive way to travel around Providence, costing $2 for a one-way ticket, or $6 for a day pass. The city also has water taxis and ferry boats that operate daily. Taxi rates are set by the government, but working meters are required in all taxis. It is important to check if taxi meters work. Hiring a car is also a great way to get around Providence, especially for visitors wanting to explore outside the city. Within downtown Providence however, most attractions are near enough to reach on foot.
Theadore Francis Green Memorial State Airport (PVD)
| | |
| --- | --- |
| Location | The airport is located about six miles (10km) from Providence. |
| Time Difference | GMT -5 (GMT -4 from mid-March to the first Sunday in November) |
| Contacts | Tel: +1 401 691 2471, or toll-free 888 268 7222. |
| Getting to city | Rhode Island Public Transit Route 8 connects the airport to downtown Providence, stopping at the InterLink facility on Jefferson Boulevard. Peter Pan Bus Lines provides service from the airport to central Providence, Foxboro, and Boston, with a bus stop located at the far end of the commercial roadway in front of the airport. On weekdays MBTA commuter rail service is available between Southern Rhode Island (Wickford Junction), Green Airport and downtown Providence. An airport shuttle is also available from T.F. Green Airport to various locations around the city. |
| Car Rental | Most major car rental companies are represented at the airport, including Avis, Budget, Dollar, Hertz, Alamo, Thrifty, Payless, Enterprise, Zipcar and National. |
| Airpor Taxis | Taxis are available outside the airport and take travellers to downtown Providence, Martha's Vineyard, and other local destinations. |
| Airport Facilities | Facilities include restaurants, snack bars, cafes, shops, money exchange, shoe shine, chair massages, a reflection room, a game room and conference facilities. |
| Car Parking | Long and short-term parking is available. Rates start at about $3 for the first half hour, $6 for the first hour and $3 per hour thereafter. Daily rates range between $13 and $26. |
| Website | www.pvdairport.com |
State Capitol




Rhode Island's magnificent white marble Georgian state house was inspired by London's St Paul's Cathedral and the US Capitol. It has the distinction of sporting one of only four self-supporting domes in the world, the others being St Peter's Basilica, the Taj Mahal, and the Minnesota Sta
▼ see more



---
John Brown House




The three-storey mansion on Power Street, designed by Joseph Brown for his brother John, in 1786, was once described by John Quincy Adams as 'the most magnificent and elegant private mansion that I have ever seen on this continent'.

Indeed the formal Georgian style mansion is
▼ see more




John Brown House in Providence ©Daniel Case
---
Waterplace Park




Providence's renovated downtown waterfront is known as Waterplace Park, a haven of romantic Venetian footbridges and cobblestone walkways that has won national and international design awards. The river walk was the centre of the shipping trade in the city's early years, sited at the jun
▼ see more




View of Providence from Waterplace Park. ©WFProvidence
---
Rhode Island School of Design Museum




The small but comprehensive museum attached to the Rhode Island design college features many changing exhibitions, particularly relating to textiles. The museum's permanent collection includes the Abby Aldrich Rockefeller collection of Japanese prints, Chinese terracotta, Greek statuary
▼ see more




Rhode Island School of Design Museum ©John Phelan
---
Roger Williams Park Zoo




Providence's zoo is situated in a beautiful 174-hectare (430-acre) Victorian park accessed from Elmwood Avenue on the south edge of the city. The Roger Williams Park also contains two other popular attractions, a museum of natural history and a planetarium, as well as offering a relaxing
▼ see more




Giraffe at Roger Williams Zoo ©Jude
---
Benefit Street




One of America's most famous walks is down Providence's Benefit Street, lined with an impressive concentration of original Colonial homes. The 'mile of history' takes in all the well-restored buildings that were home to merchants and sea captains. The street, overlooking the city's water
▼ see more




Benefit Street ©Daniel Case
---
Newport Mansions




The Bellevue Avenue Historical District in Newport, Rhode Island, is home to some of the grandest, most ostentatious mansions in the American architectural canon. Eleven in total, including Kingscote, Marble House and The Breakers, these enormous residences are important milestones in tr
▼ see more




Marble House, the Bellevue Avenue Historical District ©Daderot
---
International Tennis Hall of Fame




Tennis fans are inspired by Newport's Tennis Hall of Fame Museum, but even those who do not follow the game will enjoy visiting this historic sporting venue, which was a premier gathering place of Newport society at the turn of the 20th century.

The building, built around a l
▼ see more




International Tennis Hall of Fame ©John Phelan
---
Touro Synagogue




The oldest Synagogue still standing in the United States, the Touro Street building, was designed by Peter Harrison and dedicated in 1763. The synagogue has, in its time, been used as a venue for town meetings and for sessions of the state supreme court.

George Washington, wh
▼ see more




Touro Synagogue in Newport, Rhode Island ©Swampyank
---
Museum of Newport History




Visitors interested in history will find the Museum of Newport History an excellent place to begin a sojourn in the city. The museum offers a comprehensive overview utilising the decorative arts, artefacts of everyday life, graphics, old photographs and audio-visual programmes to bring t
▼ see more




Museum of Newport History ©Daniel Case
---
Museum of Yachting




Proud of its heritage as a top sailing destination, Newport is equally proud of its museum dedicated to the sport, which has been acclaimed as one of the best sailing museums in the nation.

The Museum boasts a variety of artefacts and exhibits such as a vast collection of cla
▼ see more




Yachting ©David Blaikie
---
Block Island




Barely 12 miles (19km) from the shore of modern east coast America lies a tiny 'treasure island' virtually unspoiled by progress, where the main past time offered to visitors is peaceful pleasure and kicked-back relaxation. Time seems to have stopped on Block Island in the Victorian era,
▼ see more




Block Island ©Timothy J. Quill
---
National Museum of American Illustration




Established in 1998, the National Museum of American Illustration is the nation's only museum devoted exclusively to American illustration artwork. Housed in the beautiful mansion of Vernon Court, whose Gilded Age architectural style is synonomous with the 'Golden Age of American Illustr
▼ see more




National Museum of American Illustration ©Erikb02809
---
Travel Guide powered by www.wordtravels.com, copyright © Globe Media Ltd. All rights reserved. By its very nature much of the information in this guide is subject to change at short notice and travellers are urged to verify information on which they're relying with the relevant authorities. Globe Media and UNIGLOBE Travel does not accept any responsibility for any loss or inconvenience to any person as a result of information contained above.