General
Weather
Airports
Attractions
Activities
---
Introduction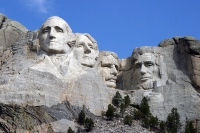 Mount Rushmore ©Dean Franklin
South Dakota has several claims to fame, including 'Sue', the world famous T-rex unearthed in the bewitching Badlands; the four massive stone faces of Mount Rushmore; De Smet, the old stomping grounds of Laura Ingalls Wilder; and Wild Bill Hickok's final, and fatal, poker game in Deadwood, now the setting of the hit television series. Yet the state is often overlooked as a holiday destination. True, it is rather sparsely populated. Its largest city, Sioux Falls, has a population of just 141,000. Visitors won't find flashy attractions or nonstop nightlife but the hauntingly beautiful landscape, ranging from vast high prairies to broken granite hills to echoing caverns, will leave a lasting impression. This sometimes harsh land has long been the home of the Sioux nation, Native Americans who followed the buffalo herds across the plains. In the 1800s, settlers seeking riches flocked to South Dakota, and skirmishes between the Indians and US soldiers quickly followed. One of the last conflicts was at Wounded Knee, where a large group of Sioux, including women and children, were massacred. Today, visitors can pay homage at a small memorial at the site. The Sioux remain a large part of the population of South Dakota, and their culture continues to provide enriching experiences. The Black Hills, a solitary range of ponderosa pine-covered mountains rising dramatically from the plains, are considered sacred by the Sioux. A landscape naturally groomed for the classic American road trip, the rolling prairies, meandering rivers and staggering peaks of South Dakota make for some of the most beautiful scenery in the country and is a must-see on any American journey.
Climate Info
South Dakota has a temperate climate. Its summers, particularly July and August, are hot, dry and pleasant, making this season the best for tourists, though they may experience occasional thunderstorms. Winters are bitterly cold and harsh, with relatively significant snowfalls and strong winds. January and February are typically the coldest months of the year, though snow is more likely to fall in March and April.
Rapid City Regional Airport (RAP)
| | |
| --- | --- |
| Location | The airport is located nine miles (14km) from Rapid City. |
| Time Difference | GMT -7 (GMT -6 from mid-March to the first Sunday in November). |
| Contacts | Tel: +1 605 393 9924, or flight info: +1 605 393 2850. |
| Getting to city | There is a shuttle service to any location in the Rapid City/Black Hills region provided by Rapid Shuttle. A ticket to Rapid City costs about $25. The shuttle runs seven days a week but arrangements should be made prior to arrival. |
| Car Rental | Alamo, Avis, Budget, Enterprise, Hertz and National offer on-site service. |
| Airpor Taxis | Several taxi companies operate at Rapid City Airport. |
| Airport Facilities | Facilities at the airport include a gift shop, a restaurant and a business centre. There are plenty of charging ports for electronic devices. |
| Car Parking | Both short and long-term parking options are available. Short-term parking is free for the first 30 minutes, after which $1 is charged for every additional 30 minutes, up to a daily maximum of $12. Long-term parking is $2 per hour, with a daily rate of $10 and a weekly rate of $60. |
| Website | www.rcgov.org/Airport |
Sioux Falls Regional Airport (FSD)
| | |
| --- | --- |
| Location | The airport is located three miles (5km) northwest of Sioux Falls. |
| Time Difference | GMT -6 (GMT -5 from mid-March to the first Sunday in November). |
| Contacts | Tel: +1 605 336 0762. |
| Getting to city | There is no public transport into Sioux Falls from the airport. Several taxi, limo, and shuttle services are available. |
| Car Rental | Avis, Enterprise, Hertz and National offer on-site service. |
| Airpor Taxis | There are a number of taxi companies that offer service to and from the airport. Cabs are not guaranteed to be waiting curbside, however, so it is a good idea to book ahead. All cabs use a meter and tipping is expected. |
| Airport Facilities | Facilities at the airport include gift shops, a snack bar, a restaurant, a lounge, an information desk, wifi and an art exhibit. |
| Car Parking | The short-term lot charges $1 for the first hour, $2 for the second hour and up to $14 a day. The long-term lot charges $1 per hour up to a daily rate of $8. The Economy Lot has the same hourly rate with a daily maximum of $7 and a weekly rate of $35. Credit and debit cards are accepted. |
| Website | www.sfairport.com |
Deadwood




Deadwood, South Dakota grew into a mythical Wild West town in the 1800s, when gold was discovered in the Black Hills. It quickly became home to a colourful cast of prospectors, gunslingers and gamblers. Today, the brick-paved streets, frontier architecture and turn-of-the-century streetl
▼ see more




Deadwood ©Gorilla Jones
---
Mount Rushmore




Mount Rushmore National Memorial is literally South Dakota's biggest attraction, covering 1,278.45 acres (5.17 km2)and drawing over two million visitors annually. It was sculpted by Gutzon Borglum between 1927 and 1941, along with 400 workers, creating 60-foot (18m) carvings of US Presid
▼ see more




Mount Rushmore ©Dean Franklin
---
Badlands National Park




The Lakota - the Native American tribe that was led for many years by Chief Sitting Bull - gave this area of South Dakota the name 'mako sica', which translates to 'land bad'. They weren't exaggerating, and modern-day visitors to Badlands National Park should brace themselves for an unse
▼ see more




Badlands National Park, ©Stefan Fussan
---
Crazy Horse Memorial




Located near the popular Mount Rushmore in the Black Hills of South Dakota, the Crazy Horse Memorial is a monument to Native American culture in the midwestern US. The most famous part of the monument is the giant sculpture of a mounted Crazy Horse, which is still in the process of being
▼ see more




View of Crazy Horse Memorial in South Dakota ©Tbennert
---
Travel Guide powered by www.wordtravels.com, copyright © Globe Media Ltd. All rights reserved. By its very nature much of the information in this guide is subject to change at short notice and travellers are urged to verify information on which they're relying with the relevant authorities. Globe Media and UNIGLOBE Travel does not accept any responsibility for any loss or inconvenience to any person as a result of information contained above.