General
Weather
Airports
Attractions
Activities
---
Introduction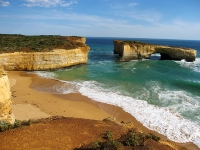 London Arch, Victoria ©Kelly Hunter
Victoria is Australia's second smallest state, covering an area roughly the size of Britain. It hugs the tip of Australia's east coast and has a decidedly clement climate. Packed into this relatively compact area is a wealth of diverse natural attractions, from national parks and forests teeming with wildlife to wineries, lakes and mountains offering skiing, climbing and hiking. Best of all, many of Victoria's unique and varied landscapes are easily accessible as day trips from the state capital of Melbourne. In fact, weekend getaways and outdoor adventures are cornerstones of Victorian culture, giving the state a fun, touristy feel year-round courtesy of the adventurous locals.
There is also lots of cultural excitement to be had, with art galleries, museums and unique architectural landmarks to enjoy. Victoria has a very full events calendar, with lots of music concerts, a diverse range of festivals, and lots of opportunities to enjoy the high-quality performing arts of Australia.
Between the well-signposted tourist routes, the proliferation of characterful country towns, the wealth of outdoor activities and adventures, and the impressive variety of attractions in Melbourne alone, visitors to Victoria are sure to be swamped by exciting opportunities.
Climate Info
Most of the state of Victoria is in the warm and temperate band of the southeast corner of Australia, with warm and dry summers and cool, wet winters; however, temperatures can vary widely within the state. The Australian Alps in the northeast have snow from June to September, while the eastern highlands, Gippsland and the Otway Ranges to the west receive the heaviest rainfall.
Melbourne has a moderate oceanic climate which is famously variable and well known for its four-seasons-in-a-day weather patterns, but generally June and July are the coldest months, January and February are the hottest, and October is the wettest time of year. In summer, between December and February, temperatures in Melbourne average between 55°F (12°C) and 78°F (25°C); and in winter, between June and August, temperatures in the city average between 42°F (6°C) and 59°F (15°C).
Getting Around
Melbourne's efficient public transport system is an integrated service utilising trams, trains and buses, with standard fares. The best way to see the city and central suburbs is by tram, a fast, cheap and convenient system that is one of the largest and oldest in the world. The Free Tram Zone was established in 2015 and provides free transportation around the CDB. In addition to this, the City Circle tram route loops around the CBD's perimeter. It provides a commentary and the trams a very convenient way to tour the city centre, providing a service that passes many of the city's main attractions. The suburban train network is extensive and is the fastest way to reach outlying suburbs, and also has an underground city loop. Buses cover the areas that trams and trains don't reach, as well as those they do, but are little used by visitors; on weekends there is a limited night bus service. Taxis, highly visible in bright yellow, are numerous but expensive. Car hire companies are available throughout the city.
Melbourne-Tullamarine Airport (MEL)
| | |
| --- | --- |
| Location | The airport is located 16 miles (25km) north of Melbournes city centre. |
| Time Difference | GMT +10 (GMT +11 from first Sunday in October to first Sunday in April). |
| Contacts | Tel: +61 (0)3 9297 1600. |
| Transfer terminals | The terminals are all within walking distance. |
| Getting to city | Numerous public bus routes access the airport, but the most convenient transport option is the SkyBus, an express bus service between the airport and the city centre, operating 24 hours a day, every day of the year, and departing the airport every 10 minutes. An adult SkyBus single journey fare is A$19. Taxis, airport shuttles and rental cars are also available. |
| Car Rental | Car rental companies include Avis, Budget, Hertz, Europcar, Redspot and Thrifty. |
| Airpor Taxis | Taxis are readily available at the airport, and taxi ranks can be found outside Terminal 1, and between Terminals 2 and Terminal 3. Taxis can also be found on the ground floor of the transport hub outside Terminal 4. |
| Airport Facilities | The airport has excellent facilities, with ATMs, currency exchanges, and a variety of bars, restaurants and shops in all terminals. Other facilities include showers, baby change facilities, public telephones and a medical centre. Shopping includes duty-free. Facilities for the disabled are good. |
| Car Parking | The airport has a vast range of parking options and each parking lot has different rates. Substantial discounts are available for online bookings. A courtesy bus service operates between the long-term parking and the terminal buildings. |
| Website | www.melair.com.au |
Cooks Cottage




This cottage was originally built in the village of Great Ayton in Yorkshire, England, in 1755, by James and Grace Cook, the parents of Captain James Cook. When the cottage was offered for sale in 1933 it was bought by a prominent Melbourne businessman, Sir Russell Grimwade. He arranged
▼ see more




Cook's Cottage, Melbourne ©alh1
---
Yarra River




A visit to Melbourne would not be complete without a good look at its main river system, the Yarra River. Often the subject of jokes due to its brownish colour, it is actually not dirty, just muddy. The Yarra has become the focus of much development in the central business district, with
▼ see more




Yarra River, Melbourne ©edwin.11
---
Old Melbourne Gaol




Victoria's oldest surviving remand prison gives visitors a chilling insight into prison life in a model 19th-century gaol. Behind the thick and forbidding walls Ned Kelly, the infamous bushranger, was one of 135 men and women who were hanged on the gaol's scaffold. Visitors can view the
▼ see more




Old Melbourne Gaol ©Mertie
---
Agnes Falls Scenic Reserve




Agnes Falls, at 194ft (59m), are the highest single span waterfalls in Victoria. The falls are situated 100 miles (160km) southeast of Melbourne, near Toora on the South Gippsland Highway. The Agnes Falls Scenic Reserve protects a small remnant of the forests that once covered the Stzrel
▼ see more




South Gippsland near Agnes Falls ©Emmy Silvius
---
Phillip Island Circuit




At Cowes, racing enthusiasts enjoy visiting the Phillip Island Circuit, originally opened in 1956, which annually hosts two international motorcycle events, the Superbike World Championship and the Qantas Australian Motorcycle Grand Prix. The Circuit has a Visitor Centre, which includes
▼ see more




Casey Stoner, Phillip Island Grand Prix ©John McClumpha
---
Wilsons Promontory National Park




The Promontory (known as 'the Prom') once linked Tasmania to the mainland. It has been a reserved area since 1898, with its 80 miles (130km) of coastline framed by vast granite masses, mountains, forests and fern gullies. The focus for tourism and recreation is at Tidal River, about 19 m
▼ see more




Sealer's Cove, Wilson's Promontory ©Robyn Cox
---
Dandenong Ranges National Park




The famous lyre bird, which has the ability to mimic any other bird, is the most important inhabitant of the Dandenong Ranges National Park, just 25 miles (40km) from Melbourne via Burwood Highway or Canterbury Road. The park, covering 3,215 hectares, plays an important role in protectin
▼ see more




Sherbrooke Track, Dandenong Ranges National Park ©Alpha
---
Ballarat




This historic town of great elegance and charm is the gateway to the goldfields. The name is an Aboriginal word meaning 'resting place', which is well suited because a tranquil lake and botanical gardens are the focal point of the city. The main Avenue of Honour is lined with 4,000 trees
▼ see more




Ballarat Town Hall ©Ed Dunens
---
Great Ocean Road




From Melbourne one of the most popular self-drive routes for tourists to follow is the circular Great Southern Touring Route, which includes spectacular scenery and takes in some of Victoria's most beautiful, scenic and cultural attractions. The first part of the route hugs the coastline
▼ see more




Great Ocean Road ©Judith Duk
---
Grampians National Park




The lofty summits and ridgelines of the Grampians region provide inspiring natural beauty in a park that is home to a variety of habitats, unique wildlife and more than one third of all the plant species found in Victoria. The park is particularly well known for its colourful displays of
▼ see more




The Balconies, Grampians National Park ©Andrew Katsis
---
Eureka Tower




The Eureka Tower is the tallest building in Melbourne and the tallest residential building in the world, standing at just over 984ft (300m) tall, and offering 360-degree views over the city. There is a public observation deck on level 88, the Skydeck, which affords visitors with a head f
▼ see more




Eureka Tower, Melbourne ©Jan Mark Holzer
---
Melbourne Museum




A fascinating museum complex situated in the Carlton Gardens, the Melbourne Museum is the largest in Australia, with more than 30 different exhibits covering history, culture, science, animals and more. Its most notable galleries include the Bunjilaka, which explores the history of Abori
▼ see more




Melbourne Museum ©Susan Fitzgerald
---
Federation Square




Occupying a whole city block, Federation Square is one of Melbourne's major attractions. A remarkable cultural nucleus, the square hosts more than 2,000 events a year in its outdoor public spaces, St Paul's Court and The Square, and vibrant covered space, the Atrium. Renowned for its uni
▼ see more




Federation Square, Melbourne ©Mark Pegrum
---
Queen Victoria Market




If you are planning a picnic at Birrarung Marr or the Botanic Gardens or just looking for some affordable souvenirs, head to the Queen Victoria market, one of the largest open-air markets in the Southern Hemisphere, with almost 50 percent of the market dedicated to the sale of fresh prod
▼ see more




Queen Victoria Market, Melbourne ©Jon-Eric Melsæter
---
Melbourne Zoo




Housing more than 350 different animal species, Melbourne Zoo is a worthy attraction, even by the standards of a country famous for nature conservation and interesting animals. Built in 1862, certain areas of the zoo have been preserved as historic zones, demonstrating to visitors the si
▼ see more




Tiger at Melbourne Zoo ©safetypinheart
---
A Maze N Things




As suggested by the pun in its name, A Maze 'N Things is a theme park that specialises in mazes, tricks, puzzles, optical illusions and other ludic delights. The great strength of the establishment is that its exhibitions are aimed primarily at adults, and are of a high-enough quality to
▼ see more




Optical Illusion ©Ian Stannard
---
Melbourne Cricket Ground (MCG)




The Melbourne Cricket Ground (MCG) is one of the most impressive stadia in the world, and is well worth a visit even for non-sporting types. Originally built in 1853 for the Melbourne Cricket Club (who are still based at the MCG), the stadium has undergone major redevelopments in its his
▼ see more




Melbourne Cricket Ground in 1864 ©bram_souffreau
---
Puffing Billy Railway




The Puffing Billy Railway is Australia's Oldest Steam Railway. A century old, the train still follows its original mountain track in the scenic Dandenong Ranges, offering spectacular mountain views and winding through cool fern gullies between Belgrave, Emerald Lake and Gembrook. The who
▼ see more




Puffing Billy Railway ©David Maciulaitis
---
Wine tasting

Despite humble beginnings, Australia's Victoria wine region now produces some of the finest wines in the world. Located at the southernmost part of the main continent, Victoria plays off a favourable Mediterranean and subtropical climate to host three principle wine growing regions: Mornington Peninsula, Yarra Valley and the Macedon Ranges Shire.




Mornington Peninsula features secluded beaches and golf opportunities, as side activities to the wine tasting of course. Yarra Valley, with the Yarra River running through it, is a slightly colder but very green and picturesque region which produces exceptional chardonnays. Yarra Valley also boasts Australia's most prolific wineries, the De Bortoli and Domaine Chandon. The Macedon Ranges Shire is home to uninhabited rolling fields of green and a family-orientated culture of wine-making. Interestingly, the Shire is currently said to provide the highest quality of life standards in Australia.




Victoria's relative anonymity as a wine-producing region is actually a great advantage as terrific wines are still available at reasonable prices. The thriving heart of Victoria is Melbourne, Australia's second biggest city, which is a good base from which to head into the main wine regions.






Yarra Valley ©Judith Duk
Hot Air Ballooning

Both because of the incredible valley scenery and the invigorating touch of fear, nothing makes one more appreciative of being alive like an early morning hot air balloon ride across the Yarra Valley. Gentle early morning winds are the most suitable for ballooning and also give passengers an amazing sunrise view. Rides usually last for about an hour, with between six and 16 people in a basket, although both of these factors are determined by weather and air pressure changes. Passengers generally touch down, with their newly heightened senses, to a gourmet breakfast at a wine estate.




Balloons cannot fly in bad weather so make flexible travel plans. Tickets information can be found at any tourist office in the Yarra Valley or many wine estates. There are multiple tour companies offering balloon rides in the region.






Hot Air Balloon, Melbourne ©Ryk Neethling
Travel Guide powered by www.wordtravels.com, copyright © Globe Media Ltd. All rights reserved. By its very nature much of the information in this guide is subject to change at short notice and travellers are urged to verify information on which they're relying with the relevant authorities. Globe Media and UNIGLOBE Travel does not accept any responsibility for any loss or inconvenience to any person as a result of information contained above.