General
Weather
Airports
Attractions
Activities
---
Introduction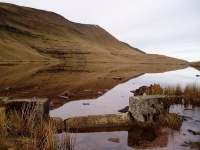 Llyn y Fan Fawr, Wales ©Blisco
For such a small country, Wales has a lot to offer. With dramatic mountains, spectacular seashores, tumbling rivers, fresh green valleys and Europe's largest concentration of medieval fortresses, Wales is a real gem that is often overlooked by tourists.
With a name that springs from the Anglo-Saxon term , meaning 'foreigner', it is hardly surprising that the Welsh have a unique culture, language and heritage that distinguishes them from the English, Scots and Irish, though as part of the United Kingdom, Wales is still subject to its laws and regulations. Although best known for their unpronounceable place names, roaring men's choirs, and fierce rugby teams, this is a friendly and hospitable nation.
Though its largest city, Cardiff, has only about 350,000 residents, cities in Wales are home to interesting urban atmospheres that retain a certain historical quaintness while providing all the modern amenities one could ask for. Cardiff, especially, has in recent years emerged as one of the hippest cities in the UK. Resort towns like Llandudno, Swansea and Tenby provide elegant seaside escapes, and medieval fortifications such as Caernarfon and Conwy offer glimpses into Wales' thousand-year-old history.
Wales is a land of nature and legend with stunning, unspoiled natural scenery that is protected by a series of large National Parks. Headline attractions include majestic parks like Brecon Beacons and Mount Snowdon, and scenic seaside communities tucked into craggy shorelines. For wilderness enthusiasts and lovers of the great outdoors, Wales is the ideal UK holiday destination.
Climate Info
Wales has a temperate climate, with temperatures rarely reaching extremes. As with the rest of the UK, the weather is highly unpredictable. Coastal areas are warm in summer, although the country generally receives more rain and less sunshine than England. On the other hand, Wales is almost always warmer and drier than Scotland. In summer, between June and August, the average temperatures range between 47°F (8°C) and 66°F (19°C) in Wales. July is the warmest and driest month of the year, but even in July some rain is likely. May, which is late spring, is the sunniest month of the year, but it is still notably cooler than the summer months, with an average high temperature of only 58°F (14°C). In winter, between December and February, the average temperatures range between 34°F (1°C) and 45°F (7°C). Between October and January Wales is very wet, with 15 to 17 days of rain each month, on average. Snow is possible in the winter months but is rare, except on high ground. Fog and frost is fairly common.
May to August is the best time to travel to Wales as it is comparatively sunny and dry. Summer is the peak tourist season.
Getting Around
Cardiff has a reliable and extensive bus service that operates between 5.30am and 11.30pm, with limited weekend and public holiday services. Exact change is required. The train services are also dependable, and taxis are easily hailed or ordered by phone. Hiring a car in Cardiff is easy, with most companies requiring a license in English with a photograph, or an International Drivers Permit. A minimum age requirement may apply. The city is relatively easy to negotiate by car, but parking is often a problem, as many spaces downtown are for permit-holders only. However, Cardiff is compact and easily explored on foot. It is also flat, making it well-suited to cycling. The Taff Trail for walking and cycling runs right through the city.
Rhoose Cardiff International Airport (CWL)
| | |
| --- | --- |
| Location | The airport is located 12 miles (19km) southwest of Cardiff city centre. |
| Time Difference | GMT (GMT +1 from last Sunday in March to Saturday before last Sunday in October). |
| Contacts | Tel: +44 (0)1446 711 111. |
| Getting to city | The Cardiff Aiport Express bus service runs every 30 minutes during the day, seven days a week. Journey time to Cardiff from the airport is approximately 35 minutes and the bus fare is approximately £5 one way. A rail link also connects Cardiff International Airport to Cardiff Central and Bridgend. Trains run each direction every hour daily (every two hours on Sunday) with onward connections to other destinations on the rail network. A shuttle connects the airport to the nearby train station in 10 minutes, costing about £1. |
| Car Rental | Enterprise, Europcar and Hertz are represented at the airport. |
| Airpor Taxis | Passengers can book a private taxi transfer with FlightLink Wales to and from Cardiff Airport. |
| Airport Facilities | Facilities include a bureau de change, ATMs, baby changing facilities, faxing and photocopying, game zones, duty-free shops, restaurants, cafés and bars. There are also facilities for disabled passengers. |
| Car Parking | Short-term parking is right outside the terminal building and long-term parking is farther away from the terminal but is serviced by a free shuttle. There is pre-booking available. |
| Website | www.cardiff-airport.com |
Pembrokeshire Coast National Park




Located in the southwest corner of Wales, just a short drive from Cardiff, the Pembrokeshire Coast National Park runs along a coastline riddled with rugged cliffs, superb sandy beaches, rocky coves and tiny fishing villages. There is some spectacular scenery and wonderful coastal walks,
▼ see more




Pentre Ifan, Wales ©Paul Griffin
---
Snowdonia National Park




Snowdonia is Britain's second-biggest national park, after the Lake District, and the biggest in Wales, boasting rugged mountain trails through some of the tallest peaks south of the Scottish Highlands. The tallest peak is Mount Snowdon at 3,560 feet (1,068m), which is visited by half a
▼ see more




Snowdonia National Park ©Richard0
---
Caernarfon




Situated in North Wales, across the Menai Strait from the Isle of Anglesey, is Caernarfon, dominated by the walls of its 13th-century castle. It was here, in 1969, that Prince Charles' investiture as Prince of Wales took place. It was a dramatic event marked by pomp and ceremony, and had
▼ see more




Caernarfon Castle ©James Petts
---
Cardiff Castle




Situated right in the heart of the city, Cardiff Castle is a unique complex of historical buildings incorporating a medieval castle, a Victorian Gothic mansion and a Norman keep, which in turn was built over a Roman fort. The city itself may have only been here for about a century, but C
▼ see more




Cardiff Castle ©James Allen
---
St Fagans National History Museum




This open-air museum, located in St Fagans, chronicles the historical lifestyle, architecture and cultural heritage of the people of Wales, and is one of Europe's leading open-air museums, and the most popular heritage attraction in Wales. The 16th-century manor house in which the museum
▼ see more




St Fagan's Manor House ©Immanuel Giel
---
Wales Millennium Centre




Nicknamed 'The Armadillo', this performing arts centre located in the Cardiff Bay area hosts performances such as operas, ballet and dance recitals, stand-up comedy and musicals. Known as one of the world's iconic performing arts venues, it features a world-class stage and also offers fr
▼ see more




Wales Millennium Centre ©TFDuesing
---
Portmeirion




The pretty village of Portmeirion in Northern Wales is as charming as they come. Portmeirion was designed by the architect Sir Clough Williams-Ellis, between 1925 and 1976, and was intended to demonstrate how a village could be designed to suit its natural landscape so as not to detract
▼ see more




Portmeirion ©Andy Farrell
---
Dan-yr-Ogof Caves




One of many cave systems in Brecon Beacons National Park, the Dan-yr-Ogof Caves are an 11-mile (17km) cave complex located about 15 miles (24km) southwest of Brecon. Only the first portion of the system is open to the public, but the spectacular limestone rock formations of the three ava
▼ see more




Dan yr Ogof ©Sloman
---
Hay-on-Wye




Culture vultures visiting the UK are urged to visit Hay-on-Wye, a charming market-town located within the boundaries of Brecon Beacons National Park. Widely referred to as the 'Town of Books', Hay-on-Wye is the bibliophile's equivalent of Mecca, featuring more than 30 second-hand booksto
▼ see more




Wye River, Hay-on-Wye ©Claire Ward
---
Llandaff Cathedral




The Llandaff Cathedral, located on the western edge of Cardiff, is one of Wales' premier sights, not to be missed by visitors to the Welsh capital. Situated in what used to be the tiny village of Llandaff, the area surrounding the cathedral still retains a village-like feel, with stone-a
▼ see more




Llandaff Cathedral ©Ham
---
Tintern Abbey




Famous Tintern Abbey, a monastery established by William Marshal ('the greatest knight that ever lived') to give thanks to God after surviving a narrow escape at sea, is one of the most inspiring and enduring tourist sights that Wales has to offer. The abbey, whose first inhabitants were
▼ see more




Tintern Abbey ©MartinBiely
---
Gower Peninsula




This small peninsula on the southern coast of Wales packs a big punch with tourists. Designated an Area of Outstanding Natural Beauty by the UK government, Gower is home to some of the most popular holiday destinations in Wales, including the resort towns of Swansea, Mumbles, Rhossili, a
▼ see more




Gower Peninsula ©Theodore Scott
---
Aberystwyth




The tiny seaside town of Aberystwyth in the north of the country is the historical heart of Wales and the birthplace of the Welsh language, but the town also really knows how to have a good time. It is home to the University of Wales and its 10,000 students, who take full advantage of Ab
▼ see more




Aberystwyth ©Morien Jones
---
Holyhead




Holyhead, located on the northwest side of tiny Holy Island near Anglesey, is a picturesque town with wonderful rugged terrain and fantastic views created by the rocky coastline. Holyhead Mountain is the highest point, and its summit provides panoramic views that extend to Ireland, the I
▼ see more




Holyhead, Wales ©Eric Jones
---
Travel Guide powered by www.wordtravels.com, copyright © Globe Media Ltd. All rights reserved. By its very nature much of the information in this guide is subject to change at short notice and travellers are urged to verify information on which they're relying with the relevant authorities. Globe Media and UNIGLOBE Travel does not accept any responsibility for any loss or inconvenience to any person as a result of information contained above.