General
Weather
Airports
Attractions
Activities
---
Introduction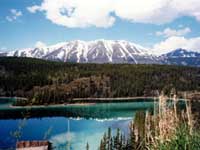 Yukon ©Judith Duk
The territory of the Yukon, Canada's 'True North', is wintry, wild and wonderful: a spectacular wilderness consisting of comprehensive national and territorial parks filled with stunning landscapes and rare wildlife, like the 120,000-strong Porcupine Caribou herd that is protected in the Vuntut and Ivvavik National Parks. Black and grizzly bears, Dall sheep, moose, wolves and musk oxen are some of the other creatures spotted regularly all over the territory.
The Yukon Territory is in the extreme northwest of Canada, bordering Alaska. The sparsely-populated province carries the motto "Larger Than Life", and its tourism is focused around outdoor activities like fishing, canoeing, kayaking and hiking in the summer, and skiing, snowboarding, ice climbing, snowmobiling and dog sledding in the winter. The Yukon also has its own natural magical light show in winter: undulating ribbons of pale-green, pink and blue lights dance in the night sky as the Aurora Borealis phenomenon delights watchers. The province also boasts Canada's highest mountain, the majestic Mount Logan peak in Kluane Park, set in a sea of ice.
Although 80 percent of the Yukon is wilderness, there are people living there too. Native Yukoners are spirited, uniquely connected with their land, and have plenty of tales to tell travellers. Many legends survive from the days of the Klondike Gold Rush in 1897, when 30,000 aspirants arrived in Dawson City in hope of making their fortunes. The First Nations culture is also well preserved and fascinating to investigate in museums, historic sites and interpretive centres throughout the province.
Climate Info
The Yukon Territory climate is primarily subarctic, and most of the province is at a high elevation with semiarid conditions, creating warm summers with temperatures averaging 77°F (25°C) and up. Summer days are long, usually with 24-hour daylight in June and July due to the extreme northerly location of the province. Winters, the peak months of which are December to February, tend to be bitterly cold, with little sun resulting in very short days. Temperatures in the southern regions can average between 39°F (4°C) and -58°F (-50°C), while further north temperatures drop even lower.
Klondike




The area around Dawson City, which lured thousands of young men and a few brave women to join in the world's last great Gold Rush in 1897, is today bursting with attractions and sights centred on this romantic piece of Canadian history. Dawson City itself is a colourful town with boardwa
▼ see more




Dawson City ©Arthur Chapman
---
Kluane National Park




This vast park is dominated by mountains and ice in Canada's extreme alpine zone, and is a magnet to mountaineers and rugged adventure-seekers. The landscape includes mountain lakes, alpine meadows, tundra and swift cold rivers. At the heart of the park is Mount Logan, rising up in the m
▼ see more




Quill Creek, Kluane National Park ©Wikibunt
---
Muktuk Adventures




In a remote area of Yukon Territory, on the banks of the Takhini River, a man named Frank Turner - who has completed the gruelling Yukon Quest, a 1,000-mile sled-dog race, more times than anyone else - has established a truly wonderful community, centred around caring for his beloved sle
▼ see more




Dog sledding, Yukon Territory ©Jeff Nelson
---
Travel Guide powered by www.wordtravels.com, copyright © Globe Media Ltd. All rights reserved. By its very nature much of the information in this guide is subject to change at short notice and travellers are urged to verify information on which they're relying with the relevant authorities. Globe Media and UNIGLOBE Travel does not accept any responsibility for any loss or inconvenience to any person as a result of information contained above.